Discover the benefits of a payroll system and how to improve your internal HR processes with an automated one.
A vital part of a company's success is its Human Resources department. It is up to them, to you, to find the best employees that should help the organization grow and stay on top.
Being in charge of human resources means that it's you that look for applicants with the best potential to help achieve company goals. HR determines whether an applicant could be suitable to get the job done.
However, there are much more complicated and exhausting HR tasks. The focus is on managing and developing employee performance, on improving their engagement and productivity. The process spans the employee's whole stay in the company.
Some of the HR Department's basic responsibilities:
Employee Recruitment
Employee Induction/Onboarding
Employee Training
Employee Wellness & Personal Development
Employee Payroll Management System
Employee Benefits
HR tasks could be tiring and difficult even for a skilled professional. It does not help when employees are unhappy, especially when it is often related to money.
Payroll management is something that could give anyone a headache. That is never good for business. Part of the reason is some HR departments still manage payroll the traditional way. In fact, small businesses annually spend more or less 41 hours on tax and payroll matters.
Manual payroll takes time and usually results in papers piling up. More papers, more work! It can be frustrating and exhausting.
The Solution
Many have also turned to technology for solutions. Cloud-based software systems are now available specifically for HR managers and staff. For many, it has made work easier and faster.
Perhaps, it's time for you to forget about doing manual payroll as well. Consider new technology instead for better business operations.
What are the benefits of an automated payroll system? How do you choose the best HR payroll software solution?
The Benefits of Automated Payroll Software
HR is responsible for employee-related matters at work. This is to ensure workers' overall job satisfaction.
You need to let them stay motivated by keeping their morale up. It is necessary because a company's best resources are its employees. You cannot afford to lose valuable assets.
Employees work more efficiently and perform better when they are appropriately compensated. This also ensures that no disgruntled employee causes problems or, worse, legal issues that may damage the company's reputation.
Prevention is always better than the need to do damage control.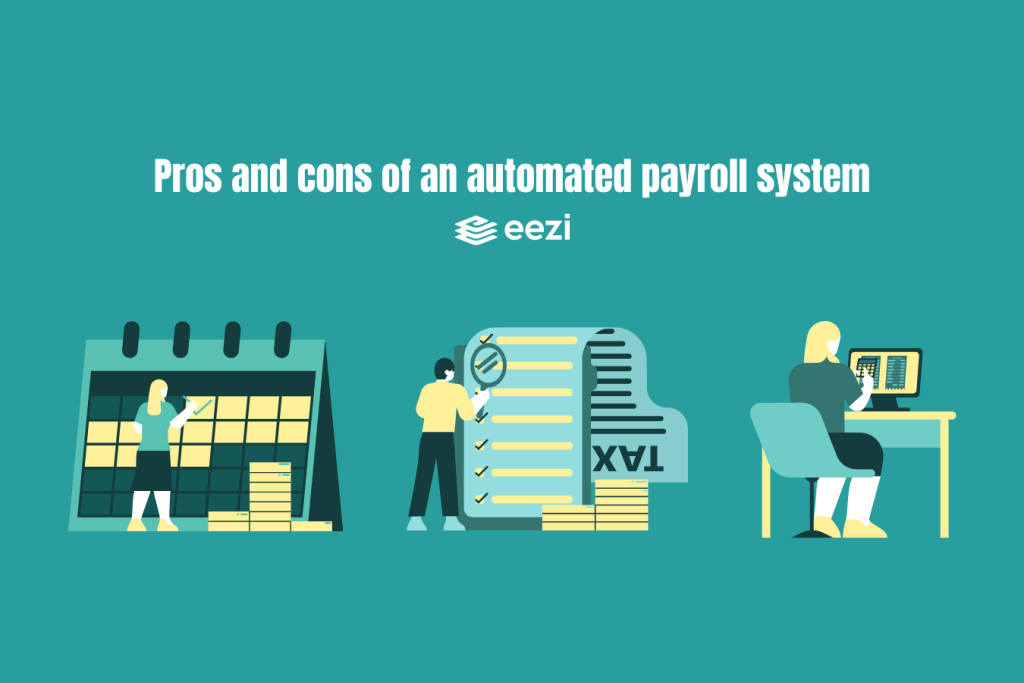 When to Opt for Payroll Systems
HR work is not easy, especially not with an antiquated payroll management system. When it has become overwhelming, it may be time to get an automated payroll system that works for you.
Technological advancements have made cloud-based HR possible for smoother, simplified operations. It results in better Return on Investment (ROI) as well.
The Benefits of Automated Payroll System
Easier accessibility
Automated worktime recording
Quicker calculation of payroll
Quicker calculation of

Base Salary
Salary deductions
Leaves
Benefits
Perks and Bonuses
Expenses
Holiday Pay
Overtime Pay

Accurate payslips
Automated tasks
Proper and complete employee forms (e.g. P45, P60)
Fewer compliance issues
Fewer worries about tax filing and management: forms, legislation
Secured data storage (e.g. payslips, reports)
Accurate reports to HM Revenue & Customs (HMRC)
Excellent basis for planning costs and budgets
Employee self-service
So how does automated payroll benefit a business?
Payroll Calculations
As mentioned, doing calculations can be too time-consuming when done manually. It takes time to gather data coming from various sources alone.
Computations can be very complex and require meticulous data comparisons and analyses. In manual payroll, information may be lost, or the wrong data may be computed if you're not careful.
With automated payroll, these tiresome tasks are done quicker because the software does all the calculations for you. All it needs are the right information that you provide.
There are automated payroll systems that will allow you to customize payroll periods if necessary. Some can support multiple intervals in pay schedules (weekly, monthly, quarterly, etc.). This is worth considering in some businesses. It can help when you have individuals or teams whose services you may have to compensate for at a specific period.
Payroll processing is not always the same for every business.
Payslip Generation
Done manually, payslip generation also eats valuable time (and energy!). It is especially true when changes in details are made. These are things you don't normally expect but must now address and incorporate. That is additional but necessary work that may be subject to errors at times.
However, this problem can be resolved with payroll system software.
An automated payroll system helps you avoid committing errors and delays in processing payslips. The values are correct, the calculations are detailed. It may also create and print or email the payslips for you. It can give you a hand in various yet specific duties.
Payroll software certainly lightens the HR workload and gives you more time to focus on other tasks.
Worktime Recording and Data Storage
A payroll system may be linked to timesheets. Therefore, it has access to attendance sheets, which makes it possible to calculate payroll much faster and more efficiently.
It records an employee's login and logout times, counts their total working hours per day, and keeps track of the times and frequency of breaks taken. This automatic process would be very helpful for a business with a large or growing workforce.
Those are just some of the employee data the payroll software stores. As enumerated earlier, there are additional bits of information, too, that it keeps for easy reference. For instance:
Should an employee's leave of absence be considered paid leave?
Has the individual already used up all the leaves she is allowed to use?
Has she done overtime work that she should be compensated for?
Is she entitled to a particular bonus?
They are important details that could be susceptible to human error. But payroll software does not normally miss them. There are fewer hassles when you automate.
Accurate Reporting
Since the system has access to employee attendance data, it is an excellent source for making reports, especially year-end reports. They are more detailed and can cover all parts of the company, be they whole departments or specific individuals.
The payroll software may provide templates and/or allow you to customize reports. Customization is a good way to organize various information. A system that supports online filing (e.g. RTI submissions, tax filing, expenses, benefits, and forms) would be beneficial for the payroll process.
Planning Costs and Budgets
Payroll software gathers data, which can be analyzed to better plan costs and allocate budget. It can be used to create new and effective payroll models.
Accurate reports are based on accurate payroll history that is based on accurate data. These reports enable you to predict possible problems ahead. Then you create the solutions to avoid future financial issues. Tax issues are particularly problematic.
Easy access to the correct information, whether internal or external, allows a business to run as smoothly and hassle-free as possible.
The Disadvantages of Automated Payroll Software
Nothing is a hundred percent foolproof, though. Having a perfect payroll and timekeeping software may sound too good to be true. It probably is.
While it helps HR do its job more properly, payroll software may also have its issues or weak points.
There are things that an IT system may not be able to do. For instance, it is important to emphasize it may do detailed automated calculations but not administrative work. That's the part that specifically requires the human touch.
It can't automatically enter employee details by itself (e.g. personal, hours worked, overtime hours, and other salary deductions). Those must first come from an external force. That's you, the HR department. It also cannot change pay rates and tax codes, among other things.
These are things that are still best handled by real people.
That is why it is important to find the right system for the business to get the best results. It must be able to do hard work accurately and on time, yet allow human intervention whenever and wherever necessary.
The Disadvantages of Automated Payroll Software
Humans are not perfect, so we can't expect anything man-made to be perfect all the time. Therefore, as stated, it's possible that issues with the IT system may arise.
Automated payroll problems include the following:
Security Breaches (loss, theft)

Data security
Cybersecurity

Access to sensitive information that…

can affect quality
be used for control
be misused, especially for fraud
They are not just little things that you can ignore or not be bothered about. They need to be avoided no matter what!
The Matter of Sensitive Payroll Data
Remember that you hold sensitive data that belong to your employees. They trust you with their private information (addresses. SSN, etc.). In return, you must keep those data safe.
It's not simply out of mutual understanding. It is the law. You are liable should you fail to protect any bits of information given to you from leaking and reaching the wrong people. You need to ensure payroll software security.
Choosing Your HR Payroll Software
It doesn't matter if yours is a big company or a small business. What matters is how things are managed.
How to Choose an HR Software Solution
Determine first what the business requires and start from there. The software enables you to customize your payroll model according to HR and employees' needs.
Foremost of these needs are speed and efficiency, which are quite expected. You don't want delays. You also don't want mistakes in the details because they cause more delays and more possible problems. Your payroll software must minimize errors as much as possible.
Most importantly, the system must be secure! There is no excuse to settle for less. Everyone has a right to privacy when it comes to personal information. Confidential details must remain safe from prying eyes. Employees must feel that they can trust you with their private details.
Needless to say, computerized payroll software can greatly benefit your company. However, be prepared for the costs. Automated payroll systems with better or full features naturally cost higher due to the safety and convenience they can provide.
As long as the cost is reasonable, such an investment would be beneficial in the long run.
There could be additional expenses to consider as well. For instance, there might be a need to invest in (computer) equipment and skilled operators. If you have enough resources, this should not be a hindrance to improvement.
Start Using Payroll Software
As HR, you are responsible for your employees' welfare in the company. That makes you valuable to the company, too. Therefore, payroll software that should make your job easier, less stressful, and yet, more accurate and organized is what you and your company need.
Major Advantages of Payroll Software:
Speedy payroll process: It normally means no delay. Manual payroll is the usual cause of delay.
Efficient payroll management: This is achievable with hassle-free payroll system software.
Accurate information: Accurate reporting is very important, as numbers can be quite tricky. This prevents mistakes in calculations as the software automatically does them.
Fewer Payroll Tasks
Basis for analyses: Analyses are vital in finding ways to improve management, plan costs, and allocate budgets.
Safe: Private data are generally kept secure.
Choose the eezi way of doing payroll.
Stop the tedious manual payroll process! Choose the right software and reap the benefits of payroll system done right for your business.