What are the advantages of payroll software with a time clock, and how does it help your micro and small business?
---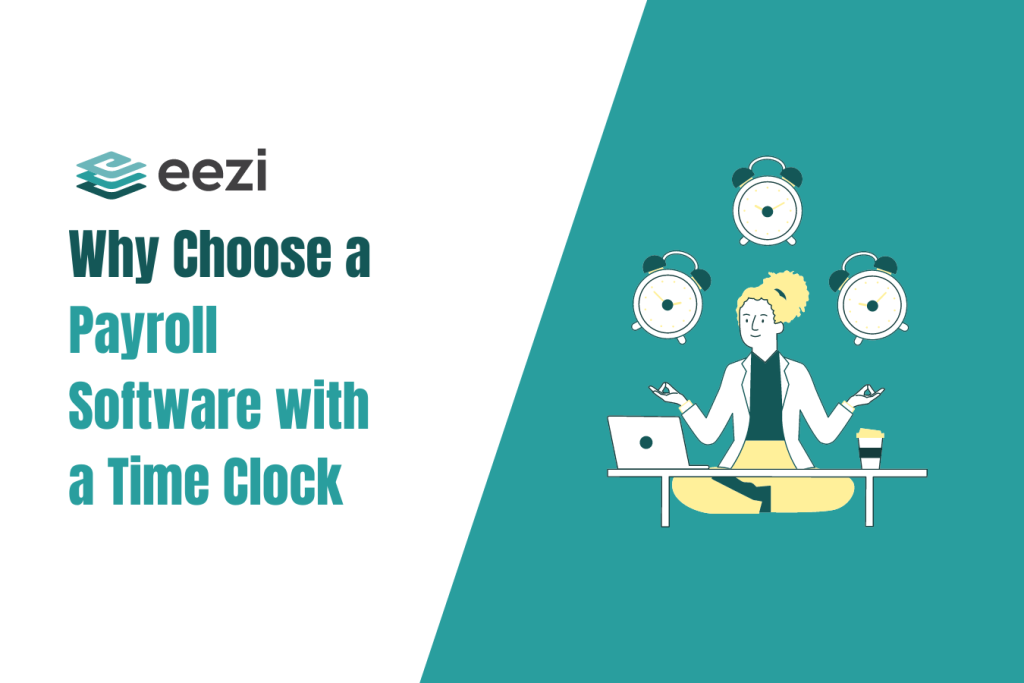 Employees are a company's best assets. However, even big companies fail when employees lack time to work to their full potential.
Skills may not be the problem. Rather, it's the attitude towards work, particularly in committing time to get the work done. When employees fail in their duties, they fail the company.
A business is only successful if it consists of dedicated people.
As it is, productivity is a common concern in various industries. How do organizations make sure that employees do actual work during their work hours? What about time clocks?
Time clocks normally record the period covering the time that people go to work until they leave work. Nothing else but time and attendance.
Fortunately, better payroll systems are now available for businesses that deem it necessary to monitor employees more closely.
Payroll software with time tracking not only helps make payroll processing easier but serves as a live monitor that records computer activities in real-time.
Could time-tracking software be the solution you need? Many organizations have opted to track employee time. It could be beneficial to you as well.
Why Opt for a Time-Tracking Software
Companies do employee time-tracking for a reason. They need to measure productivity, which many workers tend to ignore when not checked. Time theft is commonly overlooked and this is a waste of labor costs.
With the use of such time-tracking software, businesses are able to monitor their people. They are able to track everyone's time.
Employers see what workers do on their computers during employee hours, or if they actually work on their computers. On what do employees spend their time? The system records what tasks they have done and finished on what day, and at what time.
These kinds of information are precious when they work in teams.
Some Things Employers Check and Take Notes of:
Which member contributes or does the most work?
Which member gives the least effort and work hours?
Who is the most resourceful member?
Who gets the hardest tasks?
Who has the initiative to work?
These are only a few points they consider not only to pinpoint who lacks work ethics but to properly reward someone for his dedication and hard work.
Maintaining high productivity is very important across almost all industries. It equates to high revenue.
That is what businesses are about. Improved employee engagement means good output, which means good business in general.
Advantages of a Time-Tracking Software
Tracks employee hours and attendance better
Easy way to observe and monitor the efforts of each worker
Eliminates doubts against employees (trust begets trust)
Shows existing issues and problems that need to be addressed
Improves project management
Strengthens business security and overall safety
Improves individual or team productivity that results to higher revenue
Key Features of a Good EmployeeTime-Tracking Software
In purchasing things, one must always check which ones will work for him. The same is true when choosing an excellent employee time-tracking software.
There should always be standards when business is at stake. Don't simply settle for good – go for the best!
Consider These Features for Your Time-Tracking Tools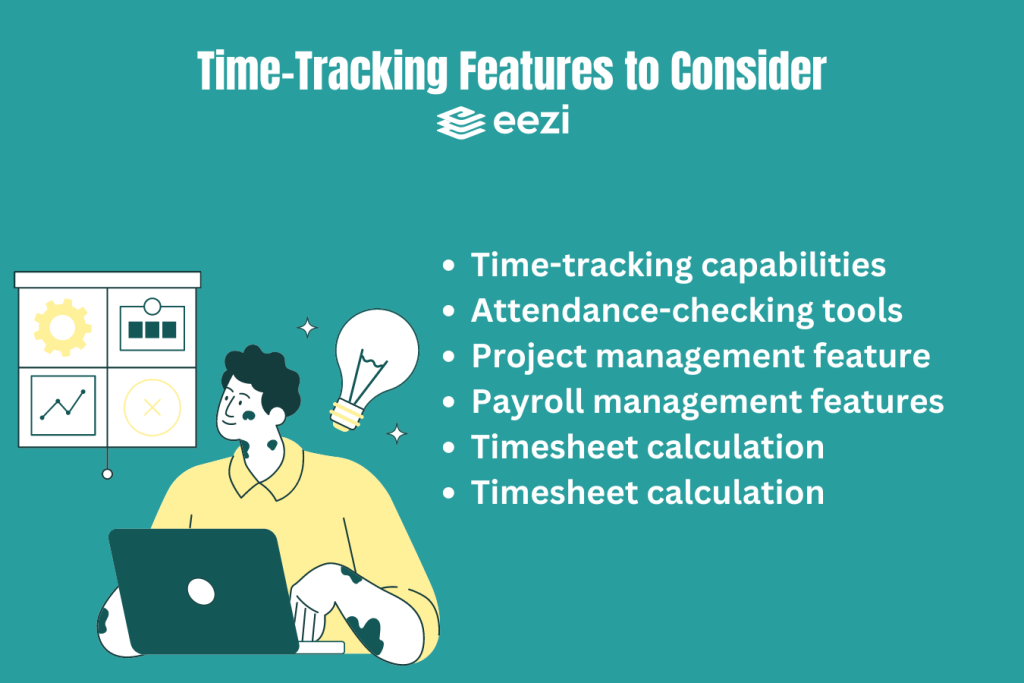 Time-tracking capabilities
Of course, this is the most basic requirement. The feature must accurately track time when one clocks in for and out from work.
It allows the employer to know more about how the person works, how she uses her time to complete her tasks, or what things distract her and why. Records and reports are key features that should help businesses avoid any payroll errors due to possible overtime calculations.
Knowing these things can help management direct her to the right path and better solutions. They can do employee scheduling based on these if that would be the best course of action.
Attendance-checking tools
That is almost synonymous with time-tracking.
Good attendance shows discipline. This can better manage time and ensure that outputs are finished on time. Irregular attendance obviously takes time away from work. Does she have a habit of not going to work? How often does it happen? Does she often have time off requests?
Management must call her attention to it and have a discussion with her to find out the reason or reasons. She may be going through personal issues. Perhaps, her issues are more on the professional side and must be addressed immediately.
It is the resource management's job to remind employees to follow work ethics.
Whichever it is, once given attention, the problem may be resolved. This should correct bad employee behavior and may result in better productivity.
Project management feature
As one of the key features, this is where many important things lie. Ineffective management often leads to ineffective projects. If the management is clueless, then employee time monitoring could be useless. Projects could be delayed time and again.
Good management features are then necessary. You can assign the right people who have the knowledge and skills to handle certain tasks. Naturally, they will be accountable for those tasks.
Resource management is there to assign, closely monitor everyone's productivity, and ensure that goals are met.
Payroll management features
Payroll systems are designed to make payroll processing easier for the HR and Accounting departments.
A system is automated and so, it is much faster than manual processing when you run payroll. It is accurate (must be accurate so choose your software carefully). Lastly, it is transparent.
All these prevent any legal issues that any employee might cause with regard to payroll.
Timesheet calculation
The timesheet records employees' daily time-in and time-out.
Whatever the employee work hours calculated in the timesheet is considered billable. Hours worked are billable hours, thus, the business pays an employee for those. There should be no errors; it must be accurate payroll. The hours must corroborate with the work.
The timesheet speeds up invoice processing. It becomes the basis for planning and budget tracking future projects.
Timesheet calculation
A big and valuable role of a payroll system is to provide insights and reports, especially at the end of every project. Analytics and reports affect the accuracy of payroll calculations and workforce management.
Your system must have these key features. Results can dictate a business's next moves. A company may decide to continue or discontinue a project, take a different approach, or even get more people working on it. This help in evaluating individual performance.
Make sure that the payroll time-tracking software offers accurate payroll analytics and produces reports with little to no errors.
What the Individual Reports Should Show:
All of the employee's tasks
Hours worked (how many, when) in a specific period (weekly, monthly)
Idle times (how often, usual time) in a specific period (weekly, monthly)
Productivity assessment and calculation
The main purpose of employee time-tracking is to measure employee performance and productivity. Make sure that the payroll software with time tracking you are buying calculates employee productivity to get your money's worth.
The productivity report should show the usual: total, active, and idle hours. It should reflect when one has been productive and not. That should be great for assessment.
Even neutral hours are indicated. "Neutral time cost (NTC) of an activity is the number of neutral hours you must spend to complete it.'
Combination of Tools and Software
Get a system that combines various tracking tools and software for the best results. For instance, management tools should go well with CRM (Customer Relationship Management).
These integrations will save time and enable you to see the bigger picture. You can assess things more and strategize to save time and avoid committing the same mistakes.
Mobile App Version
Some businesses might want an employee time-tracking app that is easy to check. The mobile app version would be a good idea. Just a few clicks and they will be updated.
However, the necessity depends on the business. It may not be that useful to some that prefer to track time without the employee time-tracking app.
Ways to Track Payroll Time
Companies are different folks with different strokes. Not everyone handles payroll the same way. So how do you track payroll time?
How to Track Payroll Time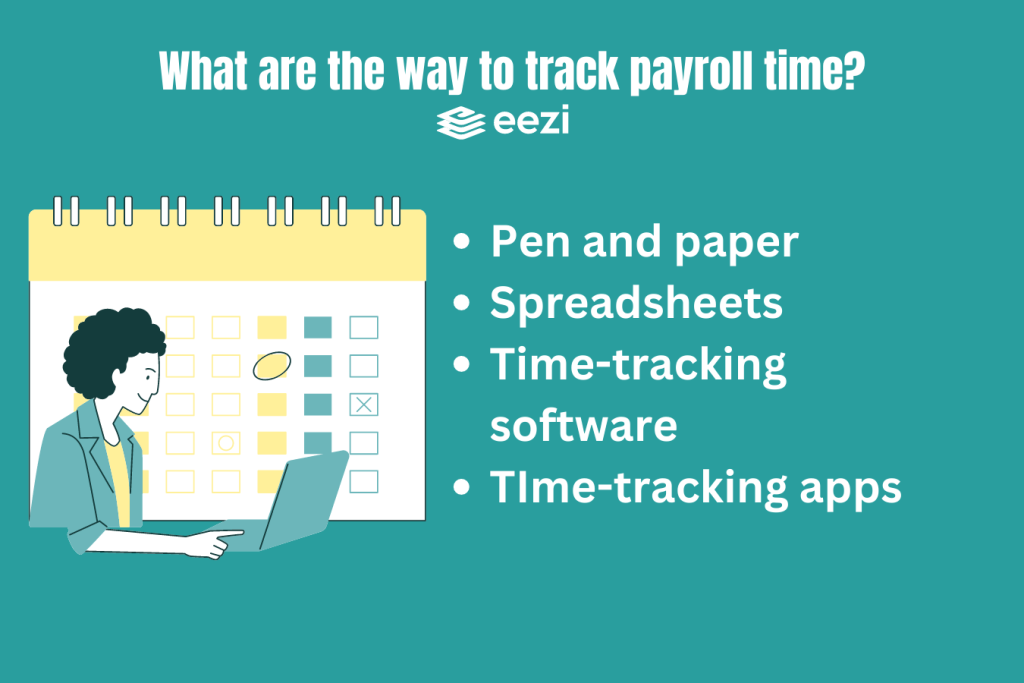 Pen and Paper
The oldest, slowest way possible! It should only be an option when you are somewhere secluded with hardly any computer equipment, if at all. This may work for a company of one up to three employees, but not much more. Manual time entry is tiresome!
Spreadsheets
For the longest time, companies have worked using spreadsheets. Compared to the first, this kind of employee time tracking was made a bit easier, but still tiresome.
It's usually either Microsoft Excel or Google Sheets. Total working hours could be automatically calculated by the system. But still, it can be too time-consuming and payroll processing is prone to errors.
Time-Tracking Software
Because it is fast, usually accurate, and has various features, it is currently the best option for many businesses. They are the integration of different tools and other relevant software.
Time-Tracking Apps
As aforementioned, this may or may not be a necessity. It depends on the company whether they want it or not. It is, however, convenient to use such apps to track time if mobile devices allow it.
How to Do Employee Timesheets
If you are worried about how to do timesheets with a time-tracking tool, it is not hard to do.
As discussed earlier, a timesheet records one's number of hours at work, from time in up to time out. It records the hours he works on a task, project, or specific assignment.
Filling out a timesheet is the same for both actual and virtual timesheets.
Steps on How to Do Timesheets
Step 1
Write/type down the specific employee's full name in the name field.
Step 2
Write/type down the specific date range in the date field.
There are daily, weekly, or monthly timesheets, so base it on the salary schedule or pay period. The start date should be on the first work day of the week if it's a weekly timesheet, for instance.
Make sure this field is accurate to avoid any possible legal issues!
Step 3
Write/type down the required task details. They may be completed or ongoing. They are proof of billable employee hours should clients ask.
Step 4
Write/type down scheduled hours, leave hours, and extra hours worked in a provided column for each workday
Step 5
Calculate and write/type down the total hours worked in the space provided.
Step 6
Write/type down any notes you'd like to add in the space provided.
Step 7
Submit the timesheet and get it approved by whoever is authorized to approve timesheets (e.g. HR, Manager).
Conclusion
In these modern times, it is wise to take advantage of technology that can help your business run smoothly.
Everything starts from the inside, and so, start with your people. Track employee time and run payroll properly. With a live monitor that works with a time clock, you can be firm yet fair in dealing with employees. This can result in higher employee attendance, thus improving employee productivity and a much better working relationship.
Find the best time-tracking software for payroll processing and better employee management. Track time, and your business could benefit greatly in the long run.

Related: SaaS Payroll vs. Custom Payroll – What suits your business?
Choose eezi's payroll software with a time clock.
Take the first step to accuracy and convenience with eezi's payroll software which comes with a web Bundy clock. See how our software does the calculations for you.