How efficient are Bundy clocks in the modern workplace?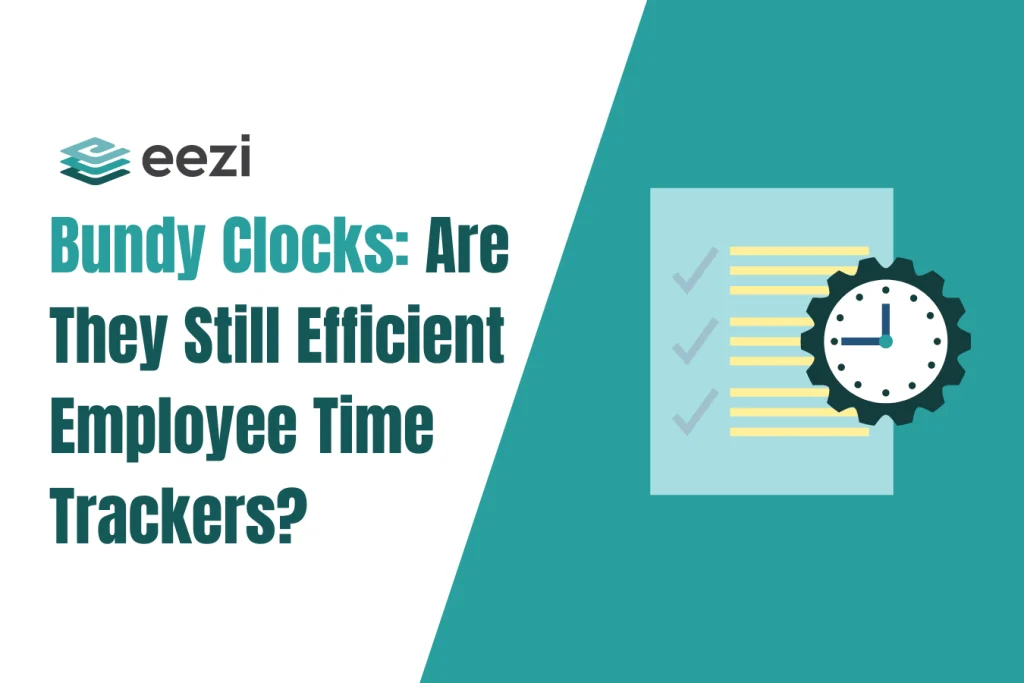 Keeping track of and recording employees' work hours is an important part of payroll. First, it ensures that employees receive their fair pay. Second, it helps determine whether productivity is rising and if you're on track with goals and metrics.
Aside from having accurate data for payroll computation, timekeeping also lets you monitor employees' attendance. Moreover, it also provides insights into individual and team productivity outputs.
In short, a time clock records the exact time and date an employee reports to and leaves work daily. By managing time, deadlines are met, processes are streamlined, and deliverables and goals are better achieved.
For employers, these tasks are easier with a reliable timekeeping tool. Hence, the entrance of Bundy Clocks. But what exactly is the Bundy Clock, and how did it change timekeeping at work?
What is a Bundy Clock?
The early Bundy clock is a mechanical timekeeping recording the arrival and departure of an employee at work. Traditionally, it works by punching or stamping the exact date and time that employees arrive and depart. The time and date would then be stamped onto the employee's paper time card after inserting it into the machine.
The term "Bundy" is an homage to the brothers Willard and Harlow Bundy, who are credited for the mass development of time clocks. Over the years, "bundy" has become a noun by itself to mean time clocks in many countries.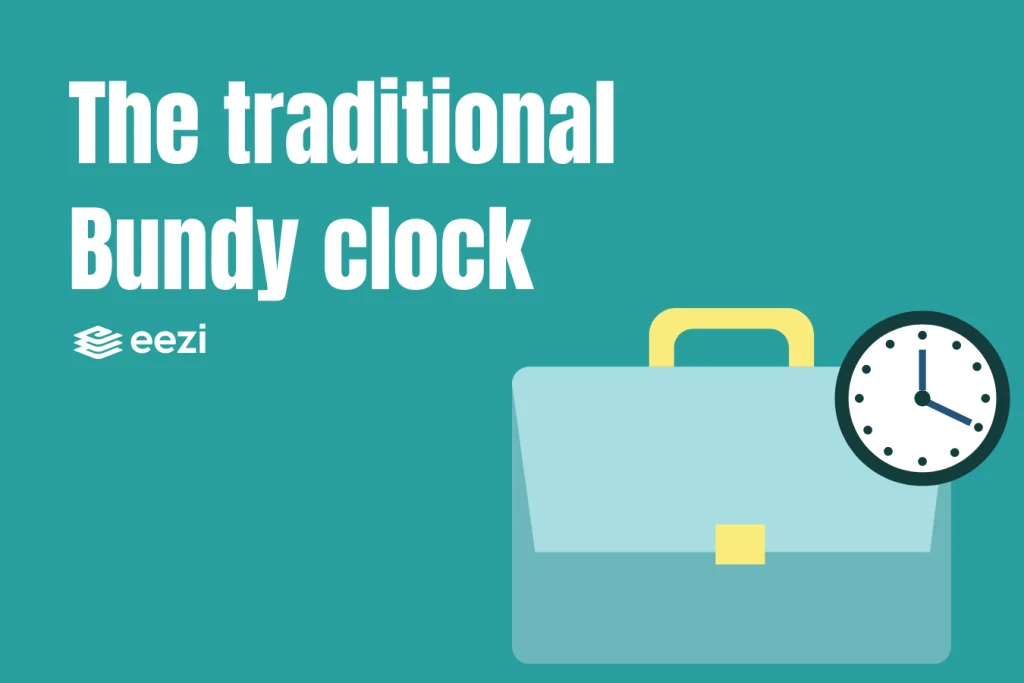 A brief history of the Bundy clock—a revolutionary mechanical time clock
The first time clock was devised by a jeweler named Willard Le Grand Bundy in Auburn, NY, in 1880. The time recorder was granted a patent in the US in 1888.
The following year, Willard Bundy partnered with his brother, Harlow, and established the Bundy Manufacturing Recording Company. From then, the two began manufacturing the Workman's Time Recorder in Binghamton, NY, in 1189.
Ten years after gaining the patent, Bundy's company produced almost 9,000 time clocks and timekeeping machines. Moreover, they organized accounts with the United States Postal Service (USPS) and multiple major railroad companies. With this, they provided not only Bundy clocks, but also their timekeeping services.
By the 1900s, Bundy had merged with other time-recording companies and time clock manufacturers. They then became collectively known as the International Time Recorder Company (ITR).
In 1911, ITR was acquired by the Computing-Tabulating-Recording Co. Thirteen (13) years later, they became the more popular and recognizable International Business Machine (IBM).
How do Bundy clocks work?
The Bundy clock was one of the first physical time clocks used to track employee work hours. It works by inserting a paper record card into a slot that punches or stamps the current date and time. This is more reliable and efficient than writing time on a log book or a piece of paper.
Every day, an employee would only need to stamp or punch upon arriving and leaving. Moreover, lunch and other breaks are also tracked this way. This ensures that employees receive due pay for the actual number of work time rendered.
Depending on actual pay disbursement setups, an employee can use the same set of time cards for the whole pay period. Furthermore, the pay period can be once a week, twice a month, or on a monthly basis.
Once the actual number of days enclosed in the pay cutoff is fulfilled, the record cards are then collected by the appropriate payroll or finance personnel. The work hours rendered are then tabulated and computed so that employees are paid properly.
Is the Bundy clock still useful in the digital era?
While the original iteration of the Bundy clock revolutionized timekeeping and attendance management, it has outlived its usefulness. With new methods of conducting business and the rise of remote employment, a traditional Bundy clock is no longer necessary.
Moreover, workers no longer need to physically report to an office to get their work done. There are also remote employees who work either in the field or from home. This means that tracking employee work hours now comes in various forms. The same goes for monitoring what tasks your employees are doing at certain points in the workday.
While the Bundy clock and time clock punches were highly efficient in the 1880s, there are more advanced systems at present. In fact, there are countless recorders and other methods of remote time tracking that companies use today.
Gone are the days where employees had to go to one location to physically insert a paper recorder onto a clock card machine. Now, employees merely have to log in to a web Bundy or time clock app to start their shift.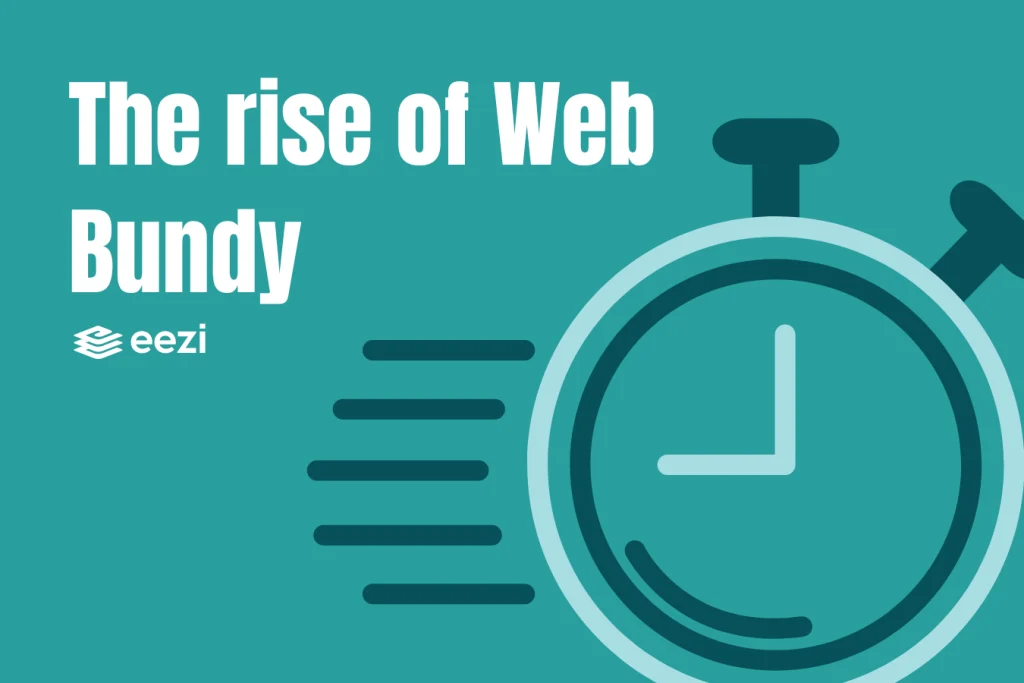 The rise of the web Bundy
With the rise of technology, the Bundy clock has evolved into a web-based time clock system. A web-based time clock system allows employees to clock in and out on a computer or a mobile device. This system records the time and attendance of employees, wherever they may be.
Moreover, it helps supervisors monitor the system to identify employees who are taking advantage of the system and being overpaid. With the wider use of the internet and mobile devices, web Bundy
FAQs
Is remote time tracking efficient?
Although not everything is 100% foolproof, remote time tracking ensures that employees get paid their due compensation. Physical time clocks at the office may determine if an employee comes in for work on time. However, virtual time tracker apps, such as eezi, are highly useful and efficient.
This advanced method of monitoring employee work hours assigns specific login credentials to each worker. As such, you are assured that the same employee actually logs in during their assigned shifts.
Most popular time clock apps are connected to service portals that employees can log in to at any time. In turn, this allows them to view work hours rendered per day, submit time off requests, access their daily, weekly, and monthly time records, and request time correction as needed.
If Bundy clocks are no longer relevant today, how else can I track the work hours rendered by my employees?
Although most companies nowadays have switched to remote tracking apps, some still retain actual physical time recording methods. These include the following:
digital time clocks
biometric time clocks
facial recognition systems
electronic pin pad
smart card or time card with a magnetic strip
electronic pads that scan palm prints
other workplace clocking mechanical device
Is buddy punching allowed?
Buddy punching is a term used to refer to an employee asking or persuading a friend or colleague to clock in on their behalf. If, for example, an employee is running late for work and he asks a fellow employee to use his login credentials to clock in for work so his time stamp isn't late, this is called buddy punching.
However, this practice is not acceptable and is sanctionable, depending on actual company policies regarding workplace best practices, rules on tardiness and attendance, and workplace ethics. Moreover, repeated offenses can lead to suspension or termination, depending on company policies.
Are Bundy Clocks still used nowadays?
Some small businesses use digital versions of Bundy clocks and punch card clocking system to record their workers' arrival and departure times to and from work. The Bundy clock and these types of time clocks are simple yet efficient enough in tracking work hours, mainly as sources of data to record and help calculate employees' pay rates.
Related: Benefits of efficient timekeeping
Keep track of employees' work hours accurately with eezi!
Efficiently track your employees' clock-ins and clock-outs wherever they may be. Switch to eezi and experience ease in timekeeping that saves you time and money.