Explore these automated timekeeping benefits and how they can improve your work monitoring and payroll preparation.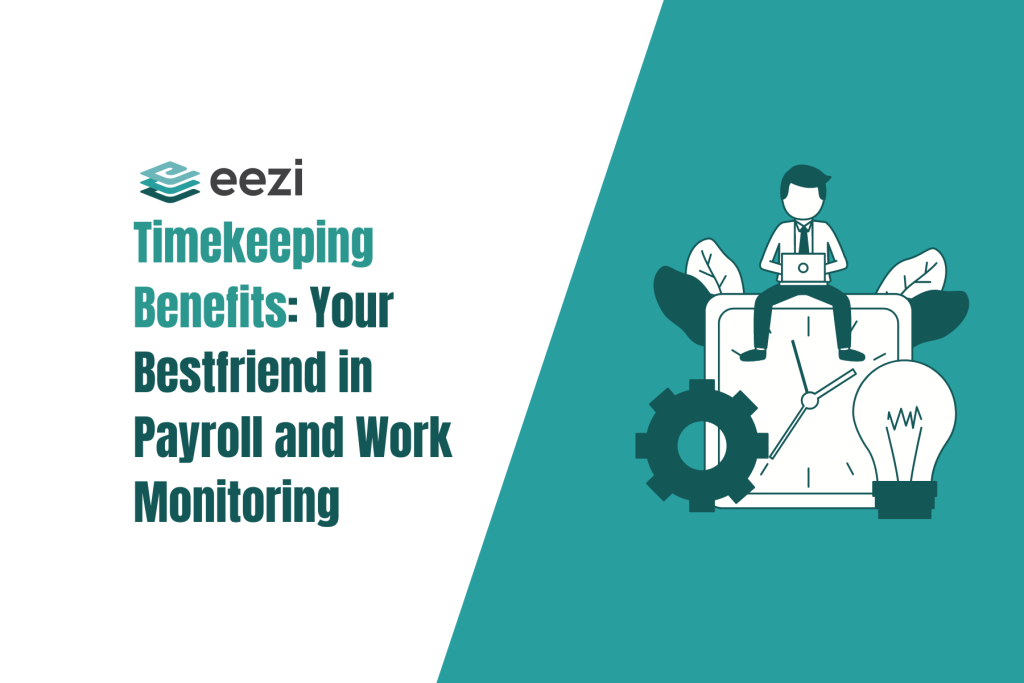 With the value of money going lower and lower and the prices of commodities going higher and higher, every penny earned counts. Employees should be vigilant in checking whether they receive the proper compensation for the time they have worked and whether the correct amount of contributions is being deducted.
On the other end, employers must ensure that they are handing out the right amounts of contributions are being withheld to avoid complications with employees, legal problems, and possible loss for the business.
What is timekeeping?
Timekeeping is the process of time-tracking, monitoring, and recording employee worked hours and leaves. Timekeeping is an essential part of running a business. It ensures that employees are properly remunerated for their services and employers are not losing money through overcompensation or legal issues mitigation.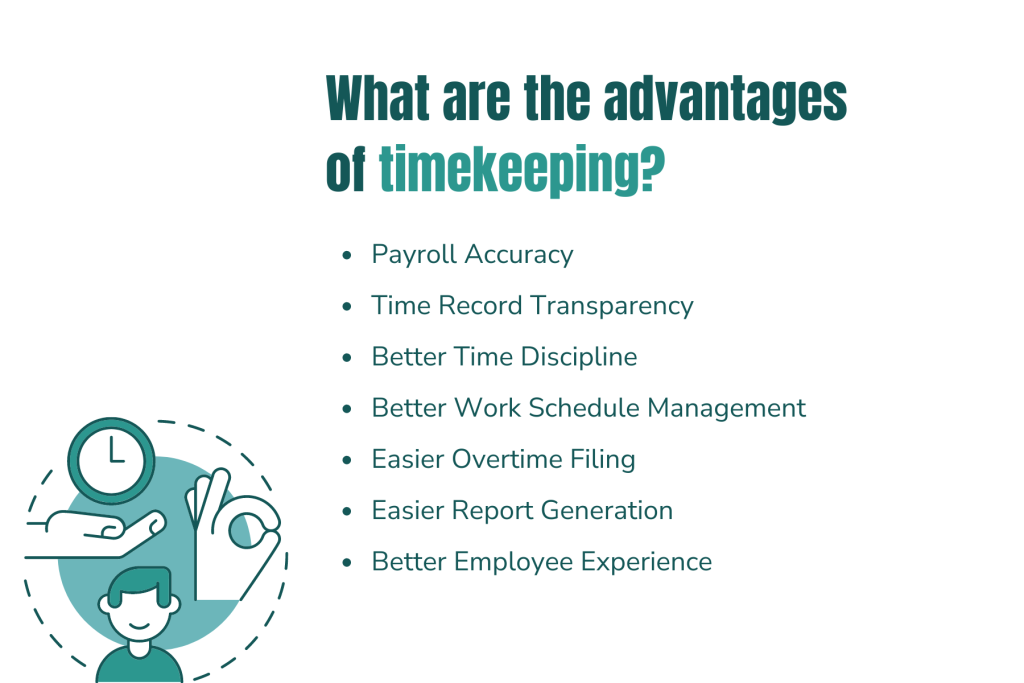 What are the advantages of timekeeping?
Payroll Accuracy
Timekeeping is the main basis for the computation of employee salary and deductions. Good timekeeping logs all of the employee work time down to the last second. Accurate timekeeping leads to accurate payroll. Having an accurate payroll is highly valued by both employees and employers. It helps businesses avoid legal issues and promotes a good relationship with employees.
Time Record Transparency
Transparency always offers a sense of security and satisfaction to both employees and employers. With timekeeping, employees can quickly check if they are being credited for the actual amount of work they have done and file complaints if ever they are not. On the other hand, employers can always counter-check the records in any instance of time-log disputes.
Better Time Discipline
A fair share of employees has some issues with time management and productivity. It starts with being late for a minute or two, then becomes 10 minutes, and soon goes on to 20 or even 30 minutes, as long as time logs are not being strictly monitored.
Without good timekeeping, some employees tend to procrastinate and perform poorly, spending more and more time on unproductive activities. This may be a simple or shallow issue at first glance, but this may well grow to be abuse toward the business, cashing in on hours spent not working or doing something unproductive.
A survey from 2020 states that 12.4% of workers have admitted to having problems with procrastination, especially since the onset of COVID-19. With three (3) hours of procrastination per day, businesses lose an equivalent of 37.5% of the annual salary of each employee.
Good timekeeping decreases this percentage relevantly. Monitoring motivates employees to focus on the task and perform better. As the Hawthorne Effect states, employees tend to work harder and more productively when being observed or evaluated.
Better Work Schedule Management
Timekeeping-based observations are also the best basis for work schedule management. Timekeeping makes collating data on previous projects and work assignments much more manageable.
It is also easier to plan future project schedules and anticipate possible work duration based on collected data, allowing for better time management. Timekeeping helps identify unproductive or drawn-out processes, allowing management to optimize or eliminate them.
Easier Overtime Filing
With good timekeeping comes better time record transparency. When there is transparency, employers and employees alike can effortlessly see the number of work hours rendered by the employees. This makes it more convenient for employees when filing for overtime work hours and allows employers to check and approve the release of overtime pay quickly.
Easier Report Generation
Easy and quick report generation is another of the benefits of timekeeping. Timekeeping enables HR or business managers to produce desired reports involving time tracking on workers' clock time and project durations. Reports can reflect the most productive hours for employees, which employees work fast on which task, which types of projects take the longest and the shortest time to finish, and whether there are certain drops in the productivity of an individual employee.
Better Employee Experience
Indisputable records showing employee work hours are one of the benefits of having good timekeeping. They help employees check whether they are being appropriately compensated. Timekeeping also provides relevant reports. These reports may reflect sudden or controversial drops in the productivity of individual workers with no previous issues. This allows HR managers or staff to investigate these issues further, intervene or offer help if necessary, and take care of employees better. All of these, in turn, contribute to better employee experience and satisfaction.
How is timekeeping done?
There is a number of ways that timekeeping can be done to track and monitor employee work time.
Paper Timesheets/Time Cards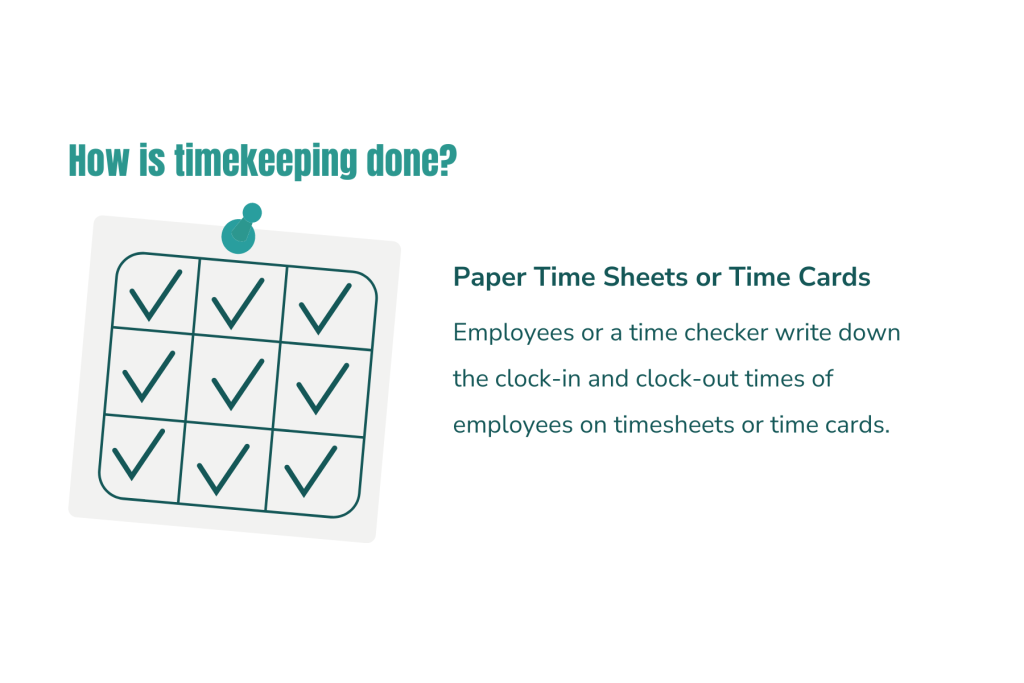 This is the classic method of timekeeping where employees or a time checker write down the clock-in and clock-out times of employees on timesheets or time cards. Time cards and time sheets are usually formatted for a month's use. This is a very affordable and accessible method of timekeeping. There is no need for special training for employees or staff to use it. This is best used for a small number of users.
Spreadsheets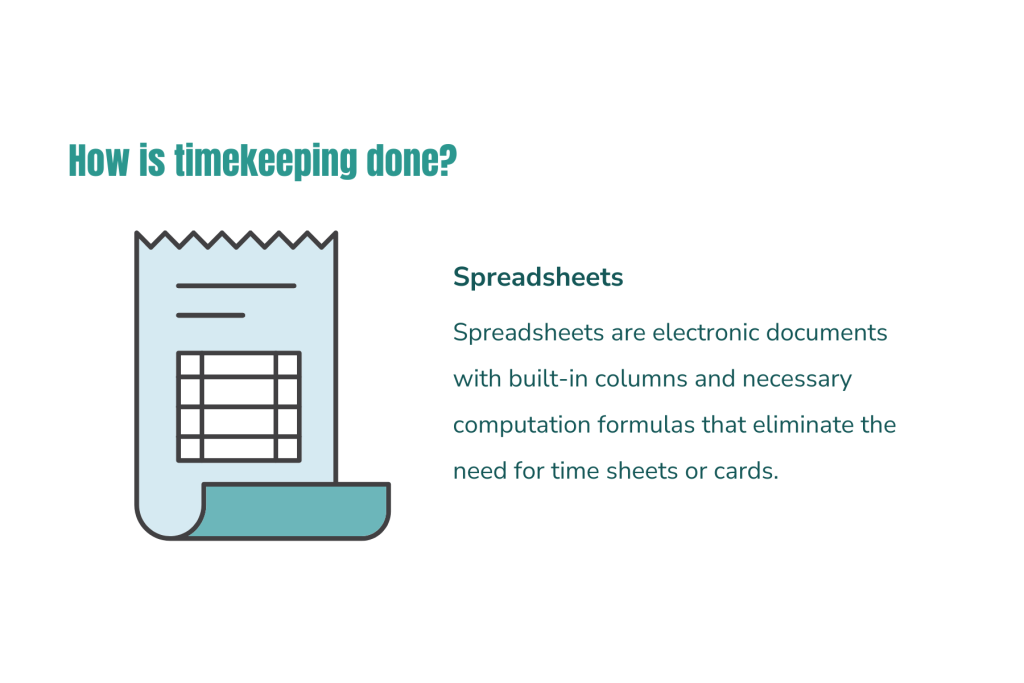 The use of spreadsheets is another example of the methods of timekeeping. Spreadsheets are electronic documents with built-in columns and necessary computation formulas. One example of a spreadsheet is Microsoft Excel. Employee log-in and log-out times are entered into the spreadsheet, removing the need for time sheets or cards. Spreadsheets are cheap and easy to set up and use. Spreadsheets can also help in calculating hours worked daily or summation of total work time for a certain period, like monthly or bimonthly.
Custom-built Timekeeping Software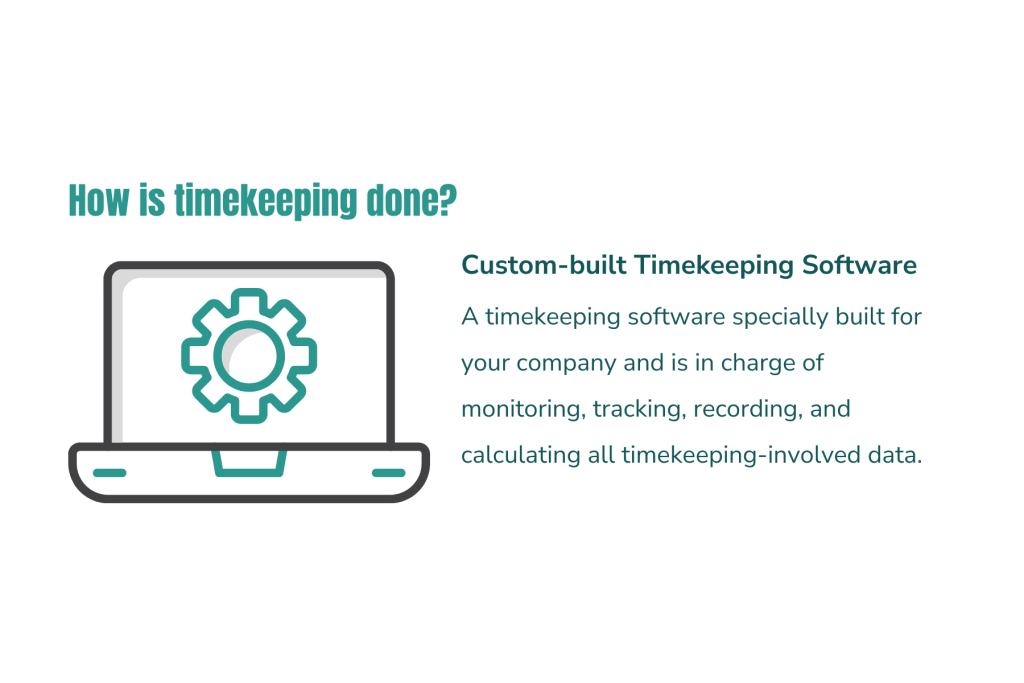 Another example of a timekeeping method is having a timekeeping software specially built for your company. This software is in charge of monitoring, tracking, recording, and calculating all timekeeping-involved data for the company. It fits right in with all other company business processes and answers all timekeeping needs and issues. Data is viewable to all who have access privileges. The software is developed for and owned by the company. It is well-suited for use with a large number of employees.
Commercial Timekeeping Solutions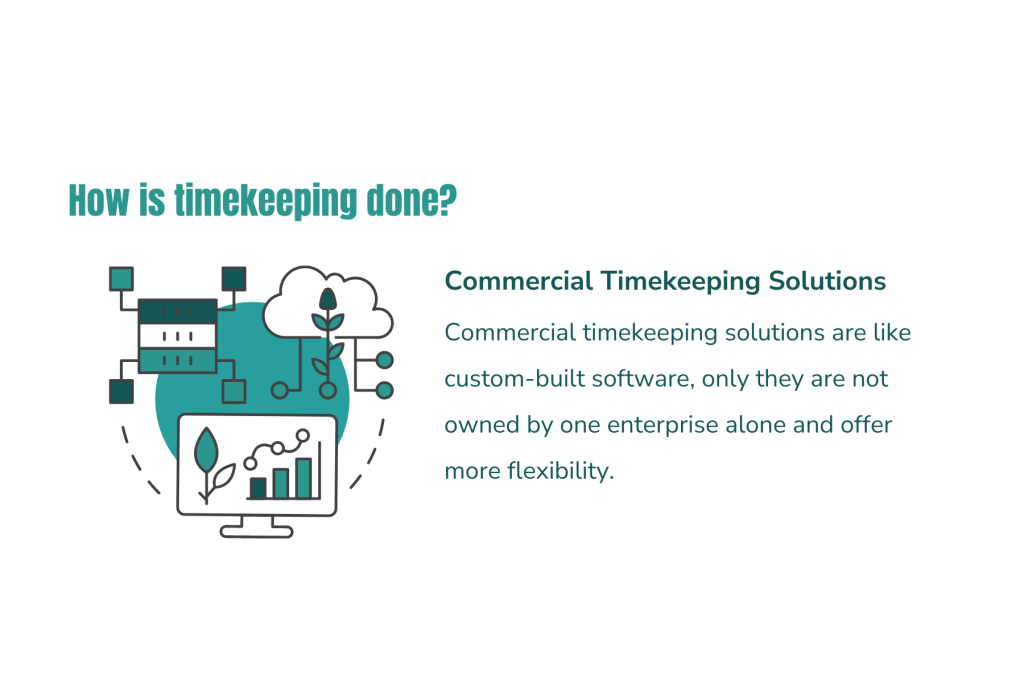 Employing the services of a commercial timekeeping solution is yet another example of the methods of timekeeping. Commercial timekeeping solutions are like custom-built software, but the target in mind during development is the usage of many different businesses, from small to large enterprises, and not just one specific business. As such, it offers more flexibility as the business grows and as the needs change.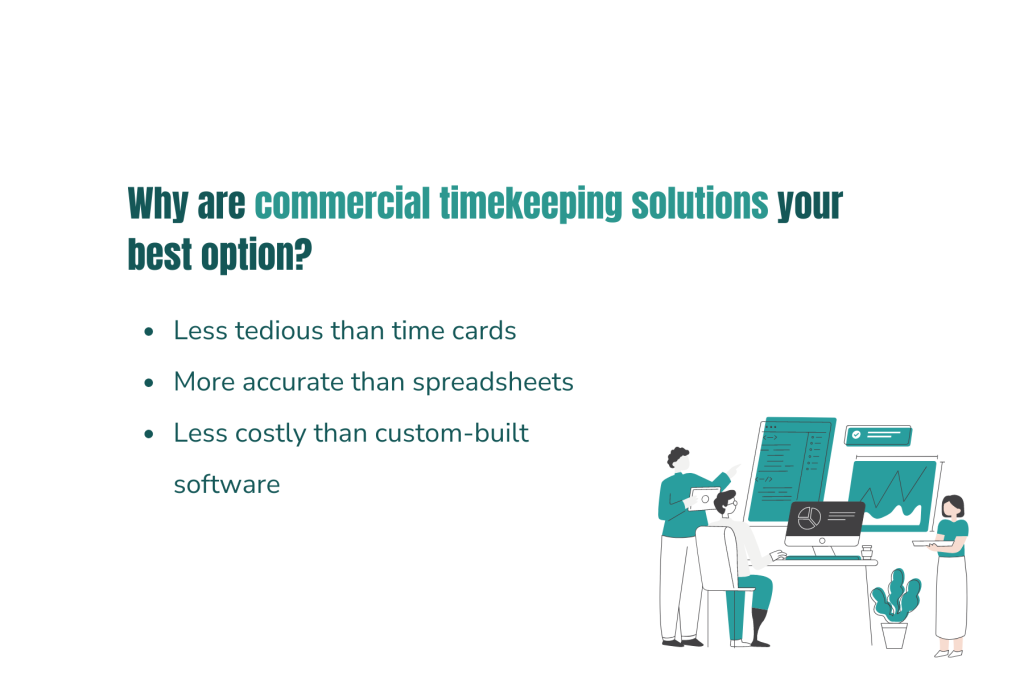 Why choose commercial timekeeping solutions?
Drawbacks of the Other Options
No matter which method of timekeeping you choose, there will always be at least one drawback. It is up to business owners to weigh out the pros and cons.
Timesheets or Time Cards
Timesheets and time cards are tedious and difficult to process on a day-to-day basis. If these are not processed daily, it will be even more tiresome and time-consuming, especially if the number of employees is more than small. The bulk of this workload may need extra hands and be prone to errors.
Mistakes may also occur during the manual filling out of the timesheet or time card, which may be accidental or intentional. Timesheets and time cards are also prone to damage, loss, or misplacement. The data lost during such incidents may cause a financial loss to both employers and employees.
Timesheet or time card bulk is hard to move from person to person who needs to scrutinize, approve, and sign the papers so employees can get paid. These paper documents may also get damaged or lost during such transports.
Spreadsheets
Using spreadsheets is an upgrade from time sheets and time cards, but it is far from the best fit. Spreadsheets are not meant to be used as timekeeping solutions. They can perform calculations, but the necessary formula must be used each time to ensure accuracy. Errors are often found during data entry and in formulas used. One mistake in the formula can pile up errors well into the future.
Although shareable, the collation of data is still time-consuming with spreadsheets. There is also a problem with data security when using spreadsheets. All data in the spreadsheet will be viewed by whomever it is shared with, regardless if some columns should only be viewed by certain personnel.
Custom-built Timekeeping Softwares
Custom-built timekeeping systems offer great benefits for businesses and are a great asset. However, they do have significant drawbacks.
The development of the timekeeping system may last for several months and cost a heavy penny from the get-go. It depends on the contract, but most developers ask for payment for each update and development done on the system. The amount spent from conception to deployment may equal an arm and a leg.
Custom-built timekeeping systems may outlive their compliance as laws and regulations change every time. They may also have compromised security if the developers used certain free bits of code with vulnerabilities in security. If the contract with the developers does not include maintenance, or if problems occur outside the duration of the agreement, the system might be compromised and rendered unusable.
Advantages of Using Commercial Timekeeping Solutions
Commercial timekeeping solutions are built to accommodate businesses from small to large enterprises, so they are flexible enough to make room for any changes brought by business growth. They are easy to set up and staff training can be accomplished in a matter of weeks.
Commercial timekeeping solutions are also more affordable than custom-built ones. Many vendors provide a free trial and some even offer the system for free for a small number of users, then charge only when the number of users exceeds the limits of the free use.
The majority of vendor-supplied solutions are mobile-compatible and allow employees to have accounts that they can use to clock in and out. And they usually have good support services, because the whole company is ready to respond to issues the timekeeping solution they provided might encounter, without any added payments.
Drawbacks of Using Commercial Timekeeping Solutions
There is only one drawback of using a commercial timekeeping solution: change may seem overwhelming, mainly if used to the traditional way of timekeeping.
Make your timekeeping eezi
Keep track of your employees' attendance accurately and speed up your payroll processing with eezi's timekeeping solutions.