What role does timekeeping software play in remote work?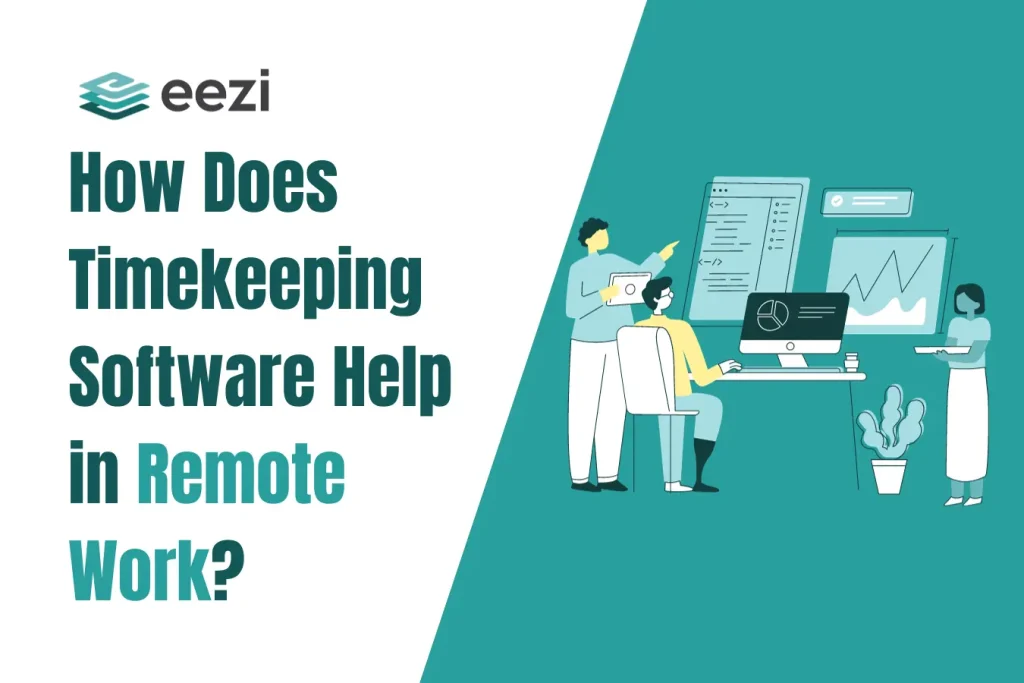 The landscape of work has undergone a profound transformation in recent years, with an increasing percentage of the workforce transitioning to remote work arrangements. Factors such as technological advancements, changing attitudes toward work-life balance, and the COVID-19 pandemic have accelerated this shift.
As remote work becomes more prevalent, organizations face new challenges related to timekeeping, attendance tracking, and employee productivity monitoring. In response to these challenges, time-tracking software has emerged as a valuable tool for both employees and employers.
In this article, we'll explore the influence of remote work on timekeeping, the challenges it presents for HR professionals, and how time-tracking tool is helping organizations address these issues.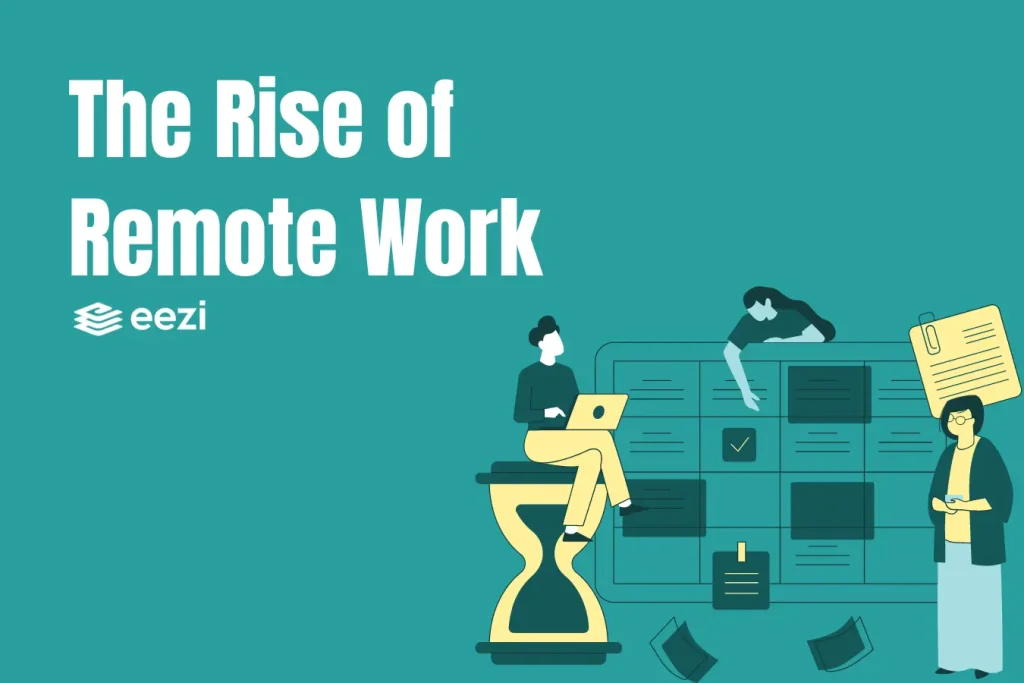 The Rise of Remote Work
The pandemic drastically changed every part of the world. It emphasized the value of a flexible workplace as well as the significance of healthcare.
The concept of working from home has been around for a while. Moreover, it has now become a way for businesses to carry on with their operations and avoid disturbances. It also proved that employees could perform tasks outside of the office without harming expenses or production.
Ultimately, it is the employees who directly benefit more from this new setup. Without the need to travel and report to offices, they can now spend more time with their families.
Everyone working remotely anticipates continuing to work from home, whether as a full-time or hybrid arrangement. This stands despite the availability of vaccines and the reopening of businesses.
According to a Job Street study, around 52% of employees have been working from home over the past years. Moreover, during COVID-19, it reached an all-time high of 85%, thanks to more flexible work setups. However, working remotely is not without challenges. Despite this, 49% of Philippine employees still prefer working from home.
The changing landscape of timekeeping
The shift to remote work has brought about notable changes in timekeeping practices.
Traditional methods to track time and billable hours, such as manual timesheets and punch clocks, only work for on-site work. Moreover, these methods relied on physical presence and direct supervision, making them less suitable for remote work settings.
As the country prepares for life after the pandemic, HR professionals are restructuring daily processes and embracing emerging technologies as they move to the next stage of the opportunity-rich "new normal."
HR professionals are in a great position to influence the future of the workforce by adapting to the evolving employee experience of today and maximizing daily business procedures.
It is crucial to use technologies that will make workplace administration simpler as they adapt to changes. An integrated time-tracking software system that manages attendance and payroll is an example of such technology.
With employees spread across various locations and time zones, flexible and digital timekeeping system solutions become a need. Remote workers required tools that allowed them to accurately record their working hours, submit timesheets, and track project timelines, all while working independently.
In the post-COVID era, this automated technology allows HR managers more time to promote a strong workplace culture. Employers can use this technology to track employees' time and activities to recognize areas for increased productivity.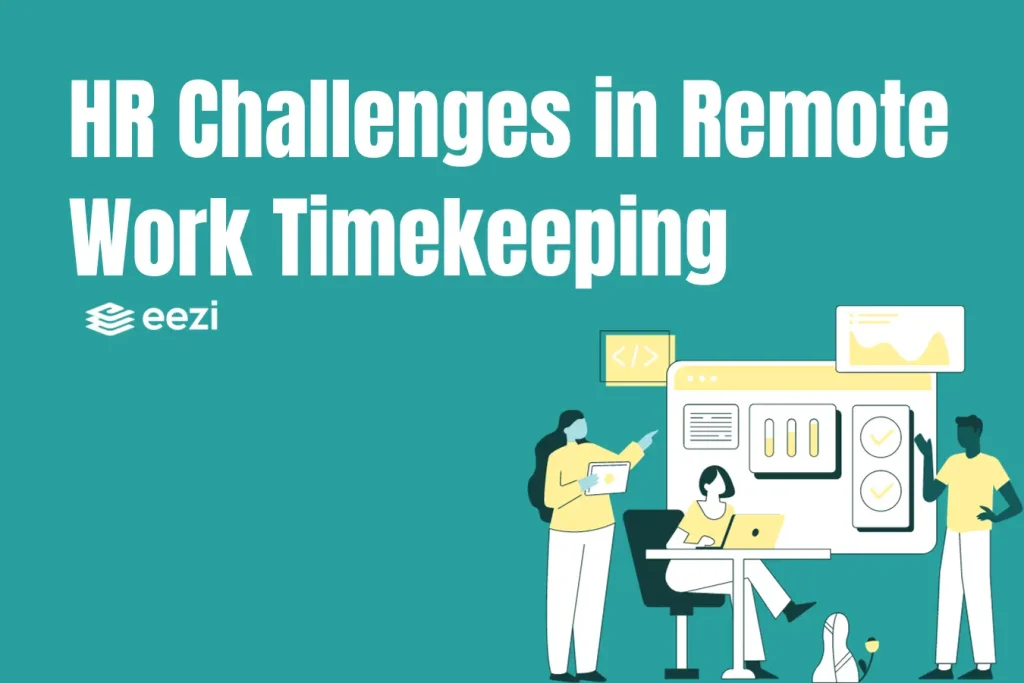 Challenges for HR in remote work timekeeping
There are several advantages to remote work that both employees and small businesses may take advantage of. While working remotely has many advantages, such as more flexibility and a better work-life balance, it also has a number of challenges, particularly in terms of timekeeping data.
Although you may have a lot of knowledge as an employer working in a typical office setting, managing a remote team calls for a distinct set of skills.
HR managers have to maintain a balance between serving the requirements of their team and making sure they are achieving the goals of the company because remote workers have greater freedom.
Here are the main challenges that remote work timekeeping presents for HR:
Lack of visibility
One of the primary challenges is the limited visibility into employees' work hours and activities. HR departments struggle to monitor remote employees effectively, which can lead to concerns about accountability and productivity.
Time zone differences
In a globally dispersed workforce, employees may be working in different time zones. Coordinating and tracking working hours across these time zones can be complex, resulting in potential inaccuracies in time clocks.
Accuracy and accountability
Ensuring accurate timekeeping and accountability for remote employees became more challenging. Without physical oversight, there is a greater potential for discrepancies or inaccuracies in work hours.
Flexibility and trust
Remote work often requires a high degree of trust between employers and employees. HR departments needed to find ways to balance flexible schedules for remote workers with the need for accountability.
Compliance and overtime
Tracking compliance with labor laws and regulations, especially regarding overtime, is more complex with remote work. HR professionals have to monitor work hours closely to avoid excessive overtime and potential legal issues.
The benefits of time-tracking apps in remote work
Automatic time-tracking software has emerged as a powerful solution to address the challenges of remote work timekeeping. Here's how it helps businesses manage their remote workforce more effectively and streamline processes:
Accurate time tracking
Time tracking software has advanced features that enable the recording of employee hours accurately, including start and end times, break durations, and task-specific time allocations. This level of precision is crucial in salary computation for both employees and employers.
Payroll integration
As all of the employees' working hours are documented, combining their performance and hours worked with the payroll feature of your time-tracking software will greatly ease HR's workload.
Since the system records and produces payroll for your employees, there won't be any uncertainty around paying them.
Remote accessibility
Cloud-based time-tracking app solutions provide remote access, letting employees log their hours from anywhere with an internet connection. This accessibility is particularly valuable for remote workers who may be working across different time zones or locations.
Automation and integration
Time tracking software automates many timekeeping methods, reducing manual paper timesheet entries and minimizing errors. It can also combine with other HR systems, streamlining administrative tasks.
Reliable project tracking
Many time-tracking app systems offer project-specific time-tracking features. This is beneficial for organizations that need to allocate employee time to specific projects or clients, ensuring accurate billing and project management.
Transparency in the workplace
Since corruption, dishonesty, and carelessness are among common workplace misconduct, transparency has always been a problem. These tasks can be handled most expertly by time-tracking software.
The features of a modern time-tracking app would call everything into question, so those involved in it would need to be vigilant to respond. There is no room for mistakes, and your workplace becomes as transparent as pure water.
Data security
Reputable time-tracking app software providers prioritize data security. They implement encryption, authentication, and access controls to protect sensitive time and attendance data from unauthorized access or breaches.
Compliance
Timekeeping software can assist organizations in complying with labor laws and hour laws, including overtime calculations, break time tracking, and timekeeping data requirements.
Take Away
Remote work is here to stay, and as it continues to shape the modern workforce, effective timekeeping becomes increasingly important. The challenges presented by remote work, such as limited visibility and time zone differences, require innovative solutions.
Time tracking software has come out as an essential tool for HR professionals and employees alike, offering accurate, unlimited tracking, remote accessibility, automation, project-specific tracking, data security, and compliance support.
As companies adapt to the evolving landscape of work, they will find that investing in time-tracking software not only addresses the challenges of remote work but also increases productivity and improves accountability, transparency, and overall workforce management.
With the right time-tracking app solution in place, small businesses can confidently navigate the complexities of remote work and empower their remote employees to thrive in the digital age.
Get a daily overview of your employees' activities
Don't let challenges with remote employee timekeeping hinder your operations! eezi's reliable timekeeping system software allows you to manage schedules and time logs. It properly tracked employees' hours in real-time.
Explore the eezi website now to learn how it may help you make the most of your remote teams.