What is the difference between SaaS payroll and custom payroll?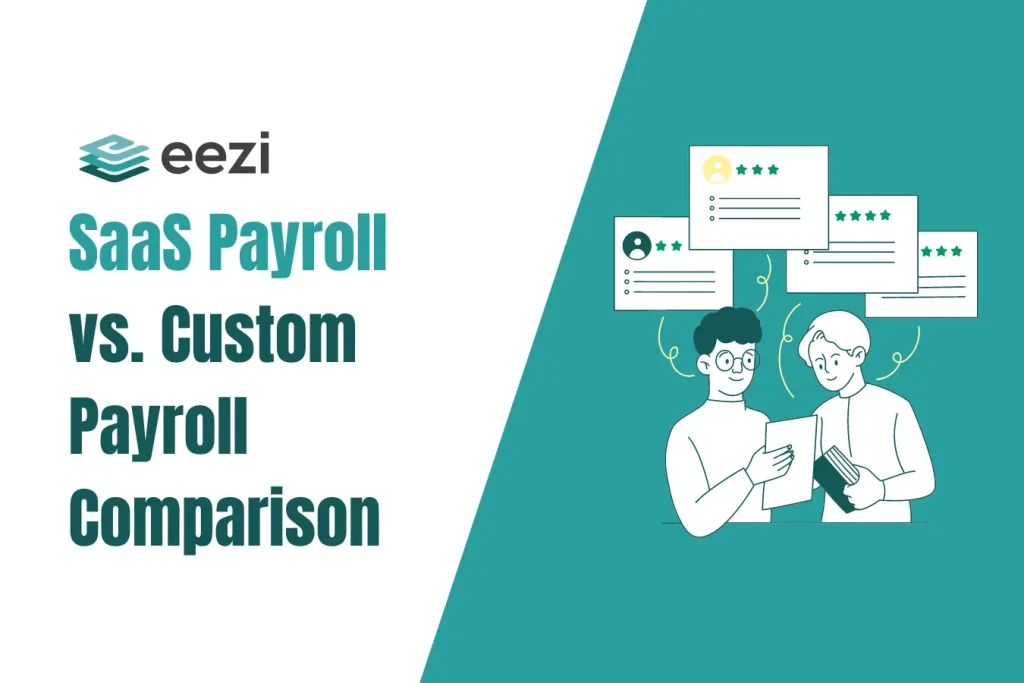 There is constant competition going on between different types of software. Normally, companies and business owners seek to maximize their software's ability to manage and facilitate their day-to-day activities.
All businesses share several operational elements, functionalities, and tools, including software designed to boost efficiency while reducing costs and time.
Finding the most effective software for businesses requires extensive research that might take time. To make things simpler, we have shortlisted two types of efficient software today so that you may compare them and select the one that best suits your company's demands.
In this article, you'll find two primary software solutions: SaaS payroll and custom software development.
What is SaaS payroll?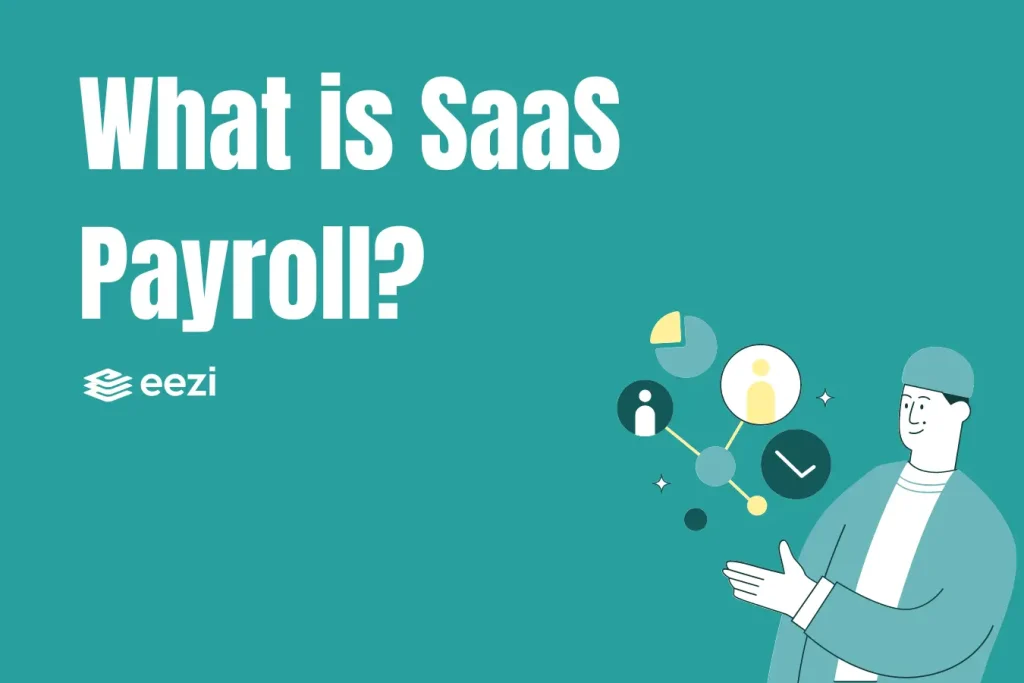 Software as a Service or SaaS payroll products are subscription-based apps for managing payroll. SaaS payroll solutions charge you monthly or yearly fees instead of one-time costs for payroll software.
These solutions often only have a web-based interface and don't require any program downloads. Payroll processing may be done from any computer, smartphone, or tablet by transferring your data to the cloud.
Before SaaS became popular, you would need to drive to the city, get a copy of the most recent payroll processing software, and install it on your computer. If you didn't acquire one, your software wouldn't receive any substantial updates. SaaS products get frequent updates without charging more.
Simply put, Software as a Service (SaaS) payroll allows business owners to manage payroll even without a desktop app.
What are the benefits of SaaS payroll?
Automatic and regular updates
Payroll SaaS software updates and adds new features at no further expense to you. SaaS solutions automatically send new features to your account, unlike old payroll software, which requires you to pay to upgrade it every few years.
Save time
The amount of time you'll save by using SaaS payroll software is another significant benefit. Running payroll manually is a laborious and time-consuming procedure, but payroll software allows you to automate many of the payroll-related processes.
This frees you up to concentrate on more crucial things, like employee management, strategy planning, and general business operations.
Manage payroll anywhere
Payroll SaaS solutions let you disconnect from your work computer. You can run payroll by logging into your payroll account from any internet-enabled device because they save your payroll data in the cloud.
Traditional payroll solutions save data locally on a single computer, making it impossible to complete payroll using another device. A blue screen of death could prevent you from finishing payroll on time.
Low startup costs
In the good old days, payroll software came with a single cost and was suitable for years. Companies only had one chance at the apple; therefore, the charge was rather steep. In contrast, SaaS products charge you a relatively small cost each month or annually.
For smaller businesses, it is preferable to pay only a few monthly expenses rather than a large one-time price, presuming you end up paying a similar fee overtime for payroll services. Moreover, spreading out interest-free payments helps you avoid serious cash flow issues.
Simple filing of payroll taxes
Businesses must withhold and send payroll taxes after each payroll run. Your company submits Form 941 to the Internal Revenue Service quarterly to summarize withholdings. Luckily, SaaS payroll software can automatically file necessary tax forms online.
What are the drawbacks of SaaS payroll?
Reliance on Internet
Payroll SaaS applications need an internet connection. You cannot even start your payroll run if your Wi-Fi is disconnected or if you are away from home and can't get a secure connection.
Although personnel files and payroll run setup can be done without an internet connection using desktop software, e-filing payroll tax forms and communicating with your bank do.
Security
Business owners have confidential data exposed to a third-party software provider. Compared to cloud-based solutions, where your documents are saved on external servers, desktop programs often store business records on a local computer, offering higher protection.
Software providers, however, are highly aware of any security issues and have measures in place to protect corporate data. In fact, a new cloud-based solution may even provide more protected data storage than desktop software.
Forced or unexpected updates
Have you ever woken up to find that your phone's software update was finished the previous night? After that, did your phone seem sluggish or lose battery life more quickly? If so, you are already aware of how annoying required updates may be.
If you choose SaaS payroll software, you have to adjust to interface updates and other changes. Menus and functionality may change overnight without the user being aware of it. They can be great or annoying, depending on the situation.
What is custom payroll?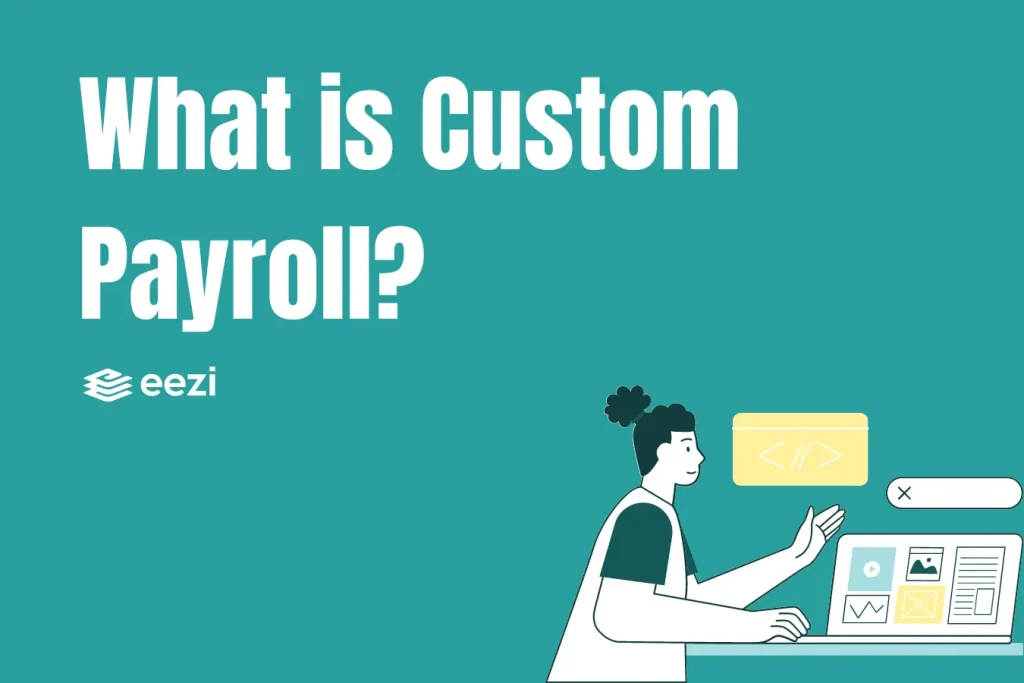 Custom payroll is an application that can either be on-premise (in your office) or cloud-based. In any case, it is tailor-made software that enables management and automation of wage payments to the company's workers. In other words, custom software development fulfills the needs of one specific organization and its users.
There are many benefits to a custom software solution specially created for your company and your particular situation. It is entirely yours and not intended to fit other types of enterprises or industries. Moreover, it can be tailored to your needs as your company develops and changes.
Ultimately, custom payroll assists you in customizing and organizing your payroll activities, which removes the repetitive burden of the payroll process. Additionally, it can help businesses become more competitive by enhancing productivity, data management, scalability, and security.
What are the benefits of custom payroll?
Automated salary calculation
Automatically processing various payments and producing paychecks exactly how you want it is an advantage for your business. This is something that custom payroll management software offers.
Integration and flexibility
Custom software considers your current systems and procedures to create a smooth workflow that boosts productivity and efficiency. This may entail, among other things, integrating with financial and customer relationship management (CRM) systems.
In contrast to off-the-shelf solutions, it is easier to update or modify to accommodate corporate operations adjustments or add new features. As a result, companies may readily adapt to the software's changes and expand without having to find a new solution.
Custom cloud-based solution
A custom cloud solution is more beneficial for your HR team members. More so if they are dispersed across several regions. With a custom cloud solution, your software is tailored to the size and other technical needs of you business.
What are the drawbacks of custom payroll?
Higher upfront cost
As opposed to SaaS solutions, custom payroll will have a higher upfront cost. Typically, full-featured software will cost more. It depends on the type, integrations, and services that are provided.
Time-consuming
The software development process necessitates a significant time investment in addition to financial investment. While benefits from custom payroll solutions might be seen immediately, it may take months or even years to provide unique software truly.
Before you achieve the intended outcomes, the procedure may involve multiple iterations and time investment for testing the custom payroll software from the user's viewpoint.
It may be draining for you to spend so much time going through the different phases of software development.
What is the difference between custom build and SaaS?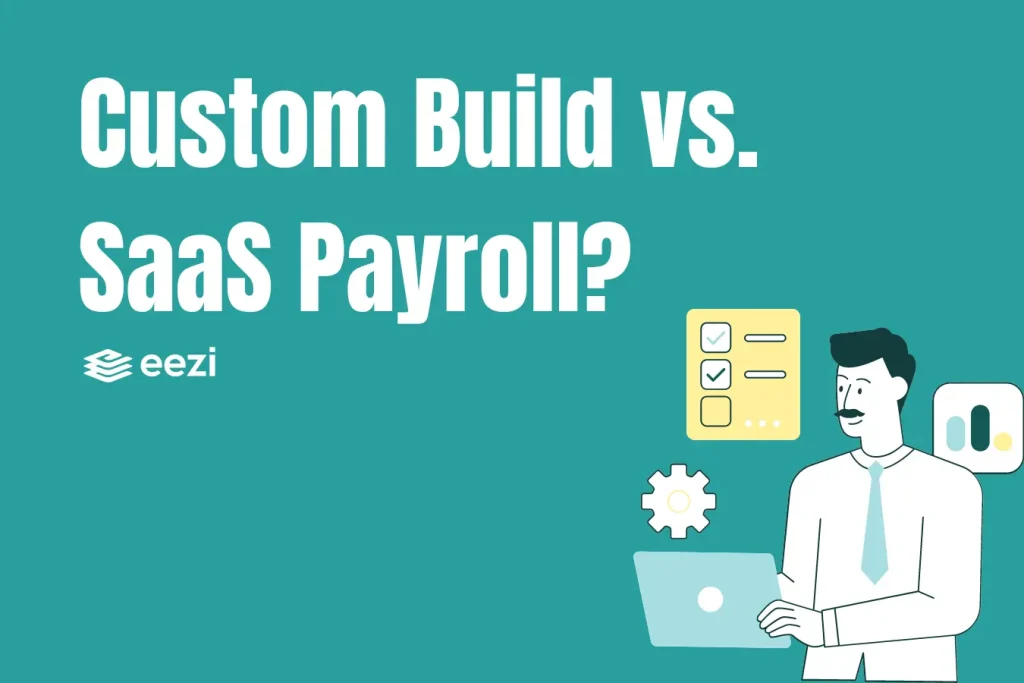 Choosing between the two options is naturally a tough decision to make. Thus, it's crucial for businesses to assess and differentiate these two.
Both SaaS payroll and custom payroll software development involve a substantial time and financial outlay that will have long-term effects on your business.
You don't want to make a mistake with this crucial choice. To make an informed choice, you must weigh the benefits of custom software over ready-made solutions and vice versa.
If you choose one that can offer you highly customized flexible solutions that are simple to use and maintain, custom payroll software could be a viable option. Conversely, a SaaS solution helps you save a lot of time and money upfront.
You may choose the best solution for your company by considering several different aspects.
Here is a short list to guide your decision-making.
Select custom payroll software when:
Standard software might not be suitable since you require highly customized software that is tailored to your business demands and gives you a competitive advantage.
You might need it to be user-friendly, versatile to accommodate any modification, and functional with other systems.
You are working with highly sensitive information, and security is a primary concern.
You are looking to improve your productivity by automating tedious procedures.
You can devote time to developing innovative applications.
You have the financial means to pay for the software.
Select SaaS software when:
Custom software costs are high, or the return on investment is low.
There are no integration prerequisites or security issues.
You have no plans or prospects to expand because you are a relatively small company.
You're in a rush.
Both SaaS payroll and custom payroll provide unique features. So the optimal choice will rely on the circumstances surrounding your company.
Making the wrong choice could cost you a lot of money. Select the approach that will enable you to achieve both convenience and efficiency in payroll management.
Say goodbye to laborious and complicated manual payroll processes.
Finally, you may end the tedious manual pay computations, which decreases errors and imbalances in monthly payment calculations!
eezi cloud-based HR and payroll software offers an automated payroll solution streamlining the complicated procedure.