Explore the benefits of cloud-based HR and payroll software and how it can help create big changes for your small business.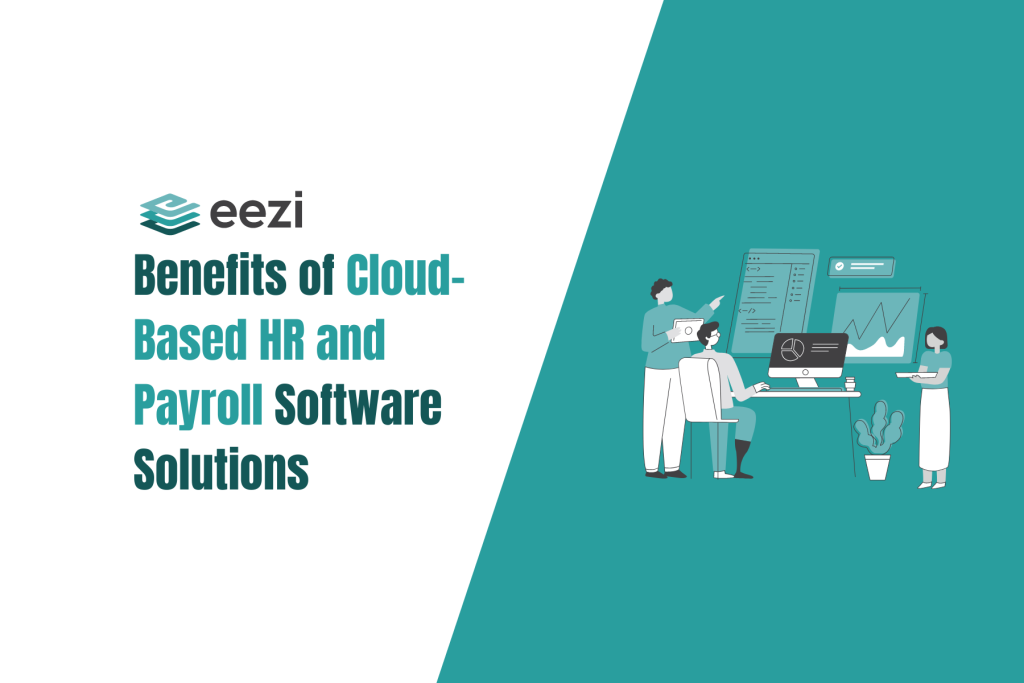 At the onset of the pandemic, many workplace trends emerged for businesses to continue operating across the world. One of which is the increased adoption of digital technologies in businesses. In today's conditions, the question is not just whether or not your company delivers products and services.
Now, the challenge is for companies to catch up with the speed, accuracy, and efficiency that today's world requires. Given this, automation has become one of the most valuable investments businesses can make, especially in managing resources. One such example is the rise of cloud HR and payroll software. But how do they actually work and benefit you?
What is cloud HR software?
Cloud HR software, also known as cloud-based HR software, revolutionizes traditional human resources processes by leveraging cloud technology. This innovative solution centralizes all HR documents, data, and functions, streamlining various processes from recruitment to retirement and everything in between. With its ability to automate core HR functions, cloud HR software enhances efficiency and effectiveness in managing human resources, making it a valuable tool for modern businesses and organizations.
What is cloud payroll software?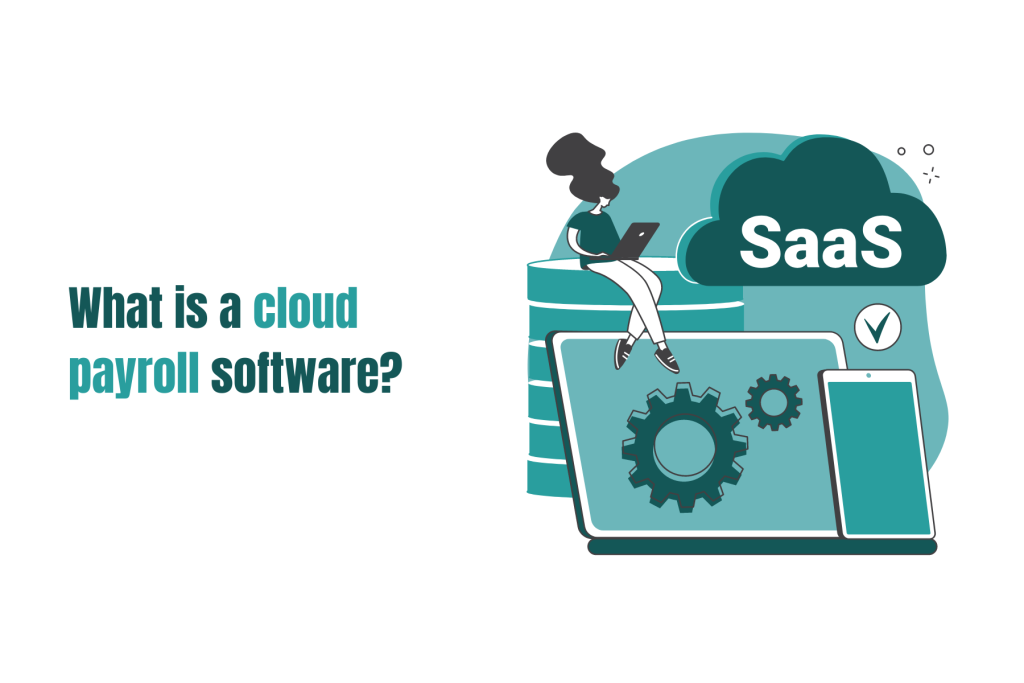 A cloud HR payroll is a powerful tool that consolidates employee information and efficiently processes salary computations. It offers real-time insights into employee statuses through its integrated timekeeping feature. This technology caters to the needs of modern HR professionals managing remote teams across various locations, fostering effective communication and teamwork without compromising efficiency. Embracing cloud software solutions empowers HR teams to streamline processes and enhance their management capabilities in today's dynamic work environment.
Related: Qualities to check in an HR software
What is included in cloud HR and payroll software?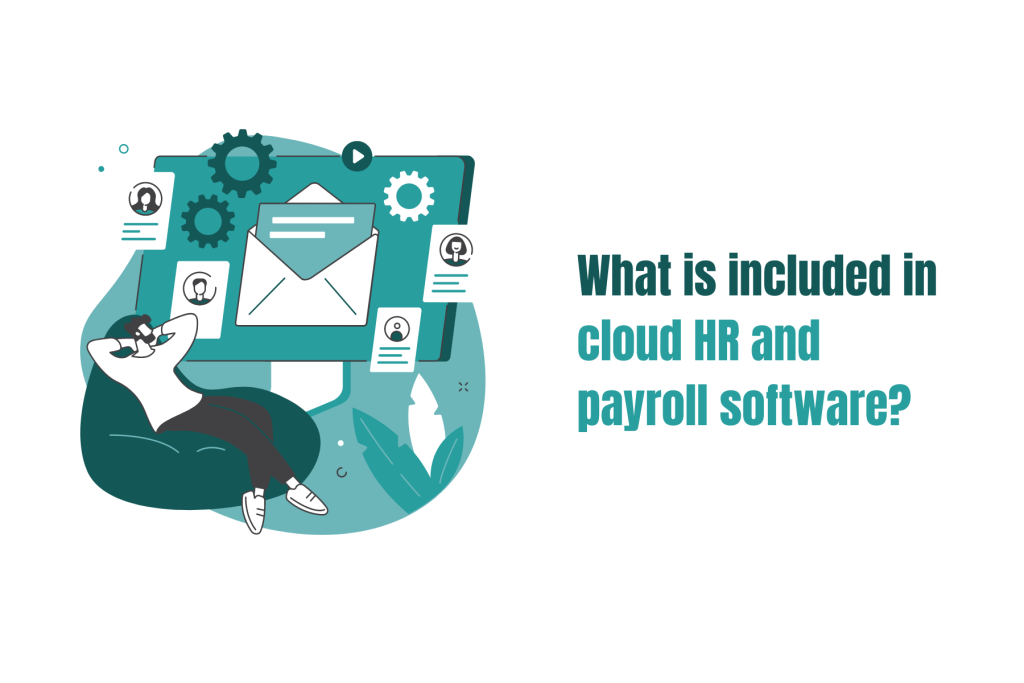 While cloud HR and payroll software solutions vary, there are common features that effective HR systems should have. These features include payroll management, employee management, self-service portals, and reports.
Payroll management
Payroll management is the entire process of calculating and distributing salaries to employees in the most accurate way possible. And because it concerns money, payroll is often a tedious task composed of repetitive computations and a pile of data to organize.
That said, pay computations need to be reliable and up-to-date to keep employees satisfied. Fortunately, most payroll management software can now complete complex tasks in a matter of seconds. And it is all thanks to cloud technology and automation.
Accordingly, payroll software often comes with timekeeping and attendance applications. This way, it can track and record employee data in real-time. Once the time-tracking platforms collect the information, it can be accessed and calculated in one place.
An efficient payroll management system accomplishes the following tasks:
Compute gross pay
Calculate and withhold deductions
Process bank forms
Comply with tax
Employee management
Employees play a crucial role in your business because it is ultimately the results of their labor that affect the bottom line. In other words, it is an essential part of HR management. Therefore, it is also crucial to managing employee performance so that your business efficiently handles your talent pool.
As with payroll, automation has also transformed employee management. With more centralized and organized data, businesses now have access to analytics. As such, managers and business owners can make more informed decisions.
Employee management software helps bring efficiency into the company's fundamental HR processes. It manages and directs employees' activities as required by the company. Additionally, it securely maintains and retains your workers' personal and other work-related information. As a result, it is simpler to store and access data when needed.
In general, employee management should include the following features:
Employee database management
Time and attendance management
Online backup
Other systems may also include a platform for performance reviews, people analytics, benefits administration, and onboarding management.
Employee self-service
In traditional human resource settings, most HR tasks would most likely be catering to workers' requests. These include pay slip requests, filing leaves and overtime, and updating personal information. Other systems may also include a portal for reimbursements and worker benefits.
In summary, cloud HR software with an ESS delegates tasks to employees. As a result, it significantly reduces the administrative tasks shouldered by the HR department. In addition, this HR solution also accomplishes staff requests faster without compromising sensitive information.
Aside from making this information available for employees, self-service portals also make sure they are easily accessible and fast. That said, most HR solutions software are available for mobile with an ESS portal that usually includes, but is not limited to the following:
Viewing and downloading pay slips
Filing leaves
Shift schedule and calendar of holidays
Employee profiles
Employee documents
Reports
Without knowledge of their own organization, HR stakeholders find it difficult to make educated business judgments. This is where storing information in a cloud is, again, beneficial. When you store information online, your HR software can process data and provide analytics as they come in.
From there, HR professionals can generate reports as needed. For the purpose of making well-informed decisions, HR reports offer both quantitative and qualitative data on workers, HR procedures, and even business trends.
With robust analytics and effective reporting, HR can have a better analysis of what has occurred as well as predict what will happen in the future. This is why HR reporting is so important since it offers the knowledge required to make wise business decisions and boost performance throughout the entire firm.
An efficient HR reporting must have the following:
Accurate data
Well-connected data
Industry knowledge
Well-trained HR team
The right HR software
What is the advantage of cloud-based HR and payroll?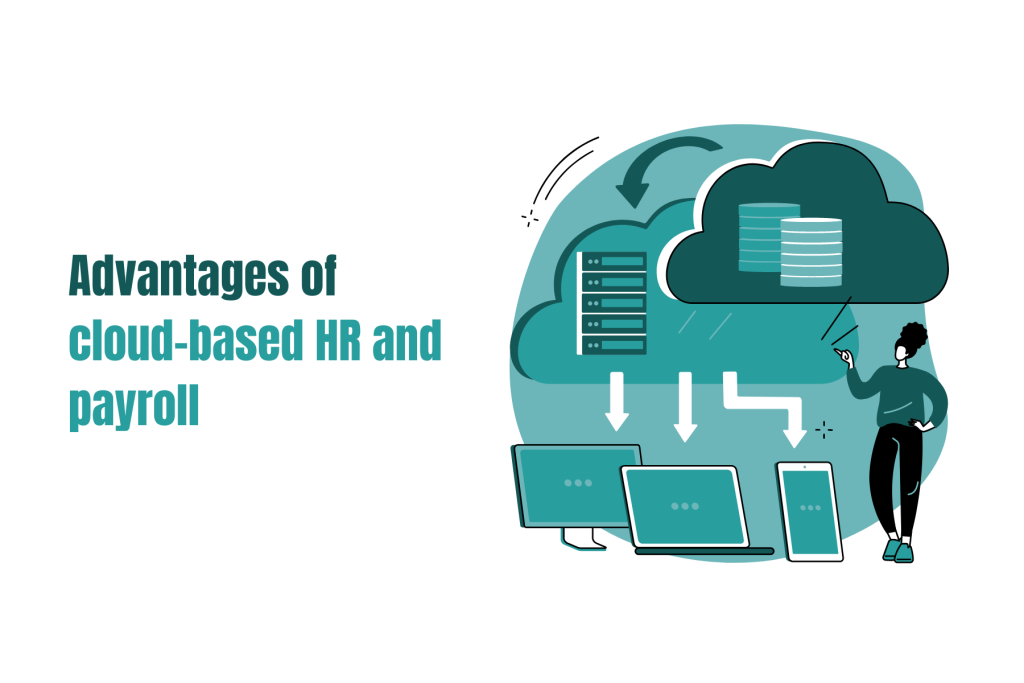 There are many advantages to adopting a cloud-based HR and payroll that benefits your HR team, employees, and the organization itself.
Resource-Saving
The advantage of cloud-based HR and payroll is twofold: resource-saving and enhanced flexibility. By opting for a cloud-based system, organizations can significantly reduce paperwork, bidding farewell to photocopies and filing cabinets. Storing information in the cloud enables easy access from anywhere with internet connectivity, ensuring data remains secure and unaffected by physical damage.
Additionally, cloud-hosted HR software saves valuable time and resources. Compared to on-site systems, the cloud-based approach offers increased flexibility, with third-party hosts taking care of software maintenance. This alleviates the burden on internal teams, allowing them to focus on other crucial tasks and improve overall efficiency.
Accurate and Real-Time Data Processing
One of the primary advantages of using a cloud-based HR and payroll system is the accurate and real-time data processing it offers. Cloud computing and automation ensure that worker information is consistently up-to-date and precise. Any changes made to the data are easily reviewed by both the company and the employee, guaranteeing the storage of factual information within the system. Additionally, the cloud-based HR system allows employees to add or edit certain information while maintaining confidentiality on sensitive data.
Furthermore, the cloud-based HR system facilitates real-time data processing, enabling immediate actions once information is entered into the system. Daily attendance and time worked by employees are swiftly processed, triggering instantaneous computations and updates to employee records. This seamless and efficient processing enhances overall HR operations and provides accurate insights for better decision-making.
One significant advantage of using cloud-based HR and payroll systems is the availability of robust analytics. These systems provide essential information that aids in informed decision-making, a crucial aspect of business success. Cloud-based and automated solutions offer easily understandable reports, presented through well-designed charts and graphs, reflecting business trends accurately.
The charts and graphs in cloud-based HR management solutions can be customized to meet the specific needs and preferences of the business. Decision-makers can access real-time data with various factors and elements incorporated, facilitating quick and clear insights into sales trends, such as the best-selling products and months with the highest revenues. This data-driven approach empowers businesses to make wise and effective decisions that drive progress and growth.
Cost-Friendly
A significant advantage of adopting cloud-based HR and payroll systems is their cost-friendliness. Building a custom system for your company can be an expensive and time-consuming endeavor, involving development, deployment, and personnel training costs. In contrast, opting for cloud-based HR software proves more affordable compared to custom-built solutions or hiring an external HR and payroll provider.
Cloud-based HR systems offer excellent value and flexibility at a more budget-friendly price. They ensure reliable data recording and safekeeping, optimize time management and reduce the need for frequent upgrades and maintenance. This cost-effectiveness frees up resources that can be directed toward other essential aspects of the business, fostering overall efficiency and productivity.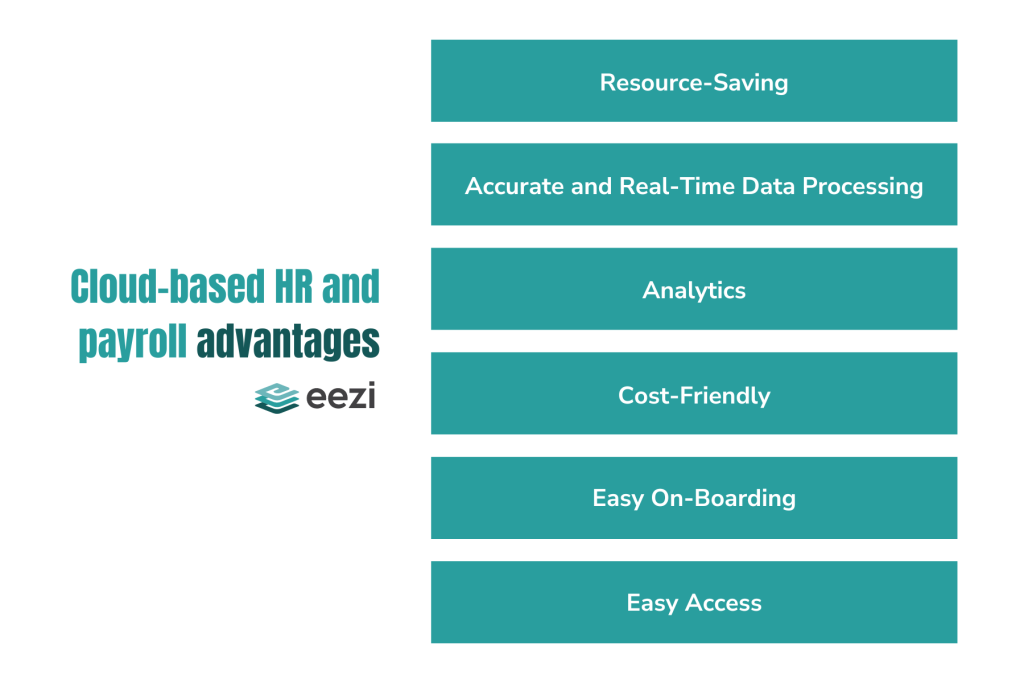 Easy On-Boarding
One of the key advantages of utilizing cloud-based HR and payroll is its easy onboarding process. Traditional onboarding can be time-consuming and challenging for both the employer and applicants. However, with cloud HR, much of the onboarding process can be conducted online through the system, streamlining the experience for all parties involved.
Applicants only need to register once to create an account where they can submit their documents and exam results. This consolidation of information simplifies the hiring process and reduces the need for applicants to physically visit the company for interviews and document submissions.
Furthermore, cloud-based HR allows new hires to access orientation materials and seminars online, enhancing the overall onboarding experience. This streamlined approach not only saves time but also improves efficiency and ensures that all necessary information is easily accessible to both applicants and the HR team.
Easy Access
A significant advantage of adopting cloud-based HR and payroll systems is the ease of access they provide. Unlike costly offline custom-built or on-premise systems that can only be accessed on-site, cloud HR and payroll systems offer the convenience of accessing information from anywhere and at any time. This accessibility proves highly beneficial for making real-time decisions, especially in emergencies, and facilitates monitoring of critical data such as sales and inventory.
With cloud HR, the HR team can efficiently manage employee information without being restricted to a physical location. Additionally, as businesses expand to multiple branches, there is no need for repeated installation processes, as cloud-based systems remain accessible across locations. The easy access and mobility of cloud-based HR and payroll solutions contribute to enhanced productivity and seamless operations for modern businesses.
How to choose the right cloud HR and payroll software?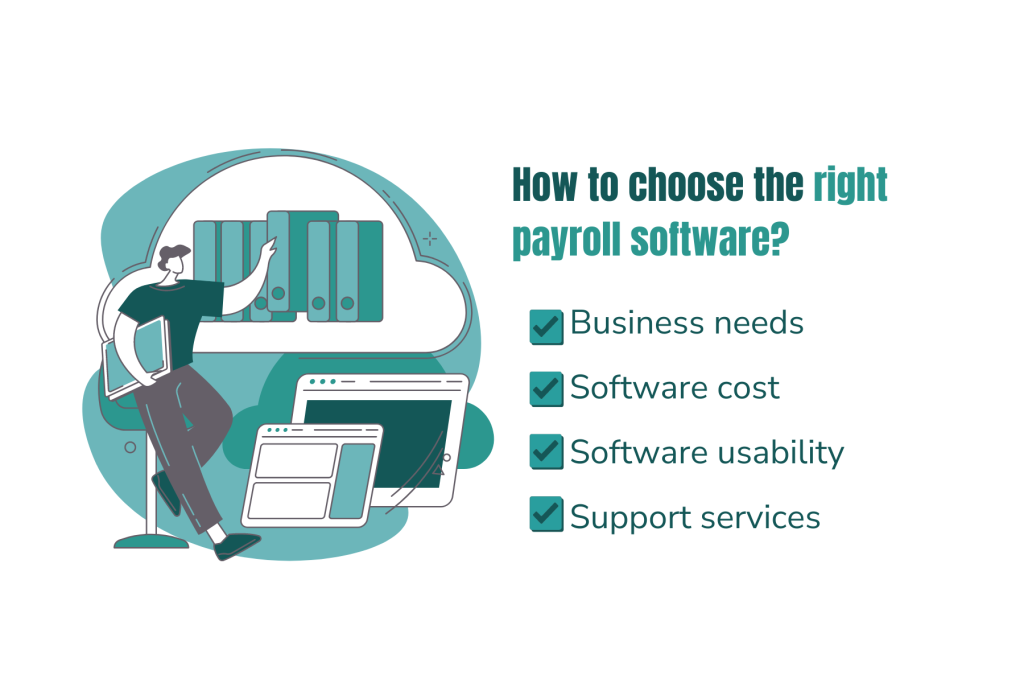 Business Needs
When selecting the ideal cloud HR and payroll software, it's crucial to prioritize the specific needs of your business. Look for software that addresses the current HR and payroll challenges your organization faces, offering reliable and efficient solutions. Ensure the software's functions and features align with your business identity and objectives for seamless integration and enhanced productivity. By focusing on your business needs, you can make an informed decision that optimally supports your HR and payroll operations.
Software Cost
When choosing the right cloud HR and payroll software, consider the software cost as a critical factor. While having well-suited software is a valuable asset for your business, it's essential to strike a balance between cost and benefits. The most expensive option may not necessarily align with your specific needs and could strain your budget unnecessarily. Be sure to clarify any additional charges for specific functions, features, and support or maintenance services. Prioritize affordability while ensuring the software meets your business requirements effectively in the long run.
Software Usability
When selecting the right cloud HR and payroll software, prioritize software usability as a crucial factor. With numerous options available in the market, it's essential to choose software that is user-friendly and easy to comprehend. A well-designed software may not be effective if it proves difficult to navigate, leading to potential errors that could impede business operations. Opt for HR and payroll software that is intuitive, easy to learn, and user-friendly to ensure smooth implementation and efficient usage for your business needs.
Support Services
When deciding on the appropriate cloud HR and payroll software, give due consideration to the availability and extent of support services offered. This aspect is vital, as any unresolved issues with the system during its usage can have adverse effects on the business. A robust support system is crucial for addressing and resolving software-related problems effectively. Look for software providers that offer reliable and responsive support services, as their assistance can be invaluable in ensuring smooth operations and timely resolution of any issues that may arise.
Cloud HR and Payroll for your micro or small business
Make your HR processes more accurate and save up on resources with eezi's cloud-based HR and payroll. See more ways how our cloud solutions can transform your business.