What are the qualities of the best online HR software for small businesses and startups? Find the list here and see how eezi fits your needs.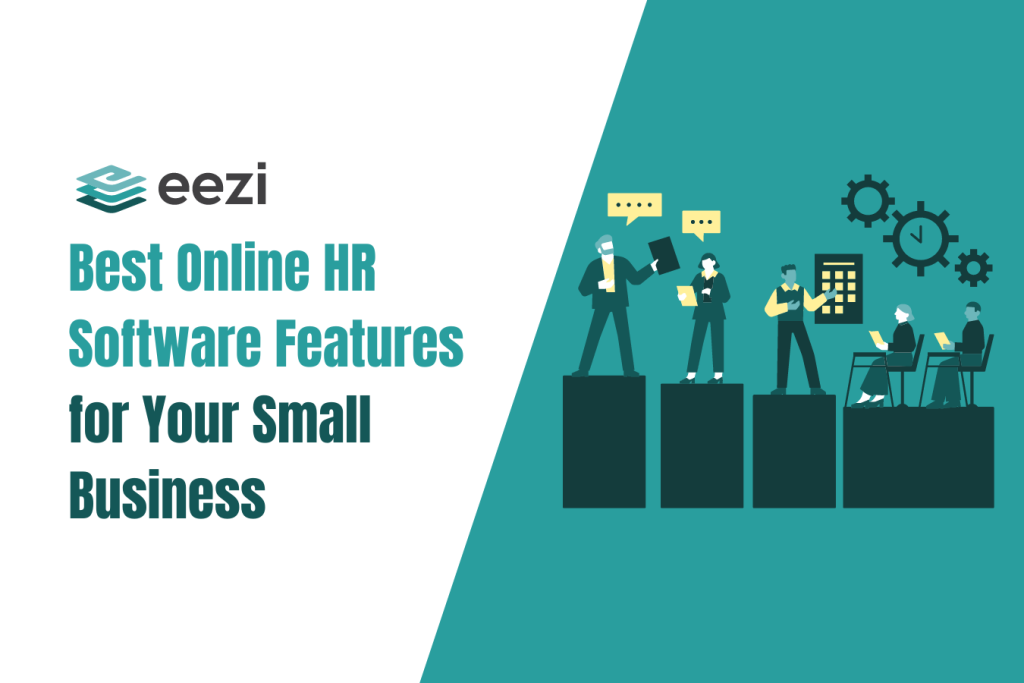 Automating your human resource management system is not that difficult to achieve.
Having highly configurable and user-friendly HR and payroll software does not need to break your bank account.
After all, automated, cloud-based human resource management software for small businesses and startups is not only a must-have. It is an indispensable tool that speeds up processes and streamlines workflows.
Invest in an employee database software best suited for your company size
Having a top-of-the-line, remotely accessible human resources management is an investment that your HR team will truly appreciate. More so if it comes with an employee self-service portal and efficient payroll software.
However, the software does not need to be fully integrated. Take, for example, those that large conglomerate business models use.
After all, what your small or micro business really needs is management software with key features for core HR workflows. Furthermore, these features include timekeeping and employee scheduling tools, full-service payroll automation, expense management, and time off requests.
A time-tracking software or plugin also comes in handy. Essentially, they ensure that keeping time for your small business is accurate and efficient.
Related:
Zero in on Core HR Functions and Document Management
The human resources core processes include employee information collection, storage, and data management. Additionally, it has features for worktime tracking, payroll management, and benefits administration.
Furthermore, some advanced software includes employee training and development, employee performance reviews, and applicant tracking. This is on top of monitoring and recording of the employee lifecycle and a module to pay employees, among others.
Consider getting HR software solutions that can provide features and properties that are best suited to your company's needs.
This article will provide you with a list of features to look for when for choosing the best human resources software system. Below are the key points for a system that's tailored for your medium-size, micro, or small business or startup.
Qualities of the Best HR Software for Small Businesses and Startups
When choosing the right HR software for your business, treat it the same way you would when hiring applicants.
The best HR software and employee management tools for small businesses should have all the makings of your dream employee. The software should be highly qualified, capable, reliable, organized, and precise.
Add to that other factors such as customization, being remotely accessible, and a self-service portal for employees. Additionally, it must have an automated payroll computation, employee data storage and retrieval, report generation, and payroll tax administration. Usually, these come with an all-in-one dashboard that allows your HR staff to manage everything at their fingertips easily.
Here is a list of HR software qualities to consider when looking for the best HR software for small businesses:
Highly Configurable Software for HR Processes
One of the most important things to consider when looking for HR software is its configurability.
Can the software be customized to suit the needs of a small business? Or is it tailored only to cater to larger, multi-national companies with thousands of employees?
Robust and Dynamic Payroll Software for Processing Employee Benefits
Is the human resources payroll software you selected dynamic? Can it be edited or updated easily? Can it generate updated reports as necessary?
One example is if your HR staff finds a typo or an incorrect computation of an employee's pay.
Is it possible to amend the information immediately? Or do certain clearances and procedures still need to be completed before changes can be made?
With a robust HR system, you can manage employee benefits and ensure that minute discrepancies can be corrected right away. Lastly, it can generate up-to-date reports in a timely manner.
Secure Cloud-based Employee Data Storage
Employee information should be handled with the utmost care and kept confidential at all times by HR professionals.
An effective HR software solution must include an encrypted and secured data collection and storage feature. This is to ensure that all information is not easily accessed by unauthorized persons or accidentally leaked.
Protocols should be in place to ensure that access to employee data is limited only to those who are authorized to view, manage, update, and release the information.
This is one way to protect your employees' privacy, personal information, and work details.
Government-Compliant HR Management Software
Your chosen HR software should be able to process government-mandated deductions and contributions in accordance with the law.
A built-in automated computation tool should be available where your HR personnel can input codes for government deductions and contributions for easy integration when computing pay slips.
The software should also be adaptable to make changes and updates, such as when a female employee gets married, divorced, or has a name change due to one reason or another.
Remotely Accessible HR Software with Employee Service Portal
Employee self-service is very important when it comes to shopping for HR software.
This feature allows your employees to access and view their attendance and available leave credits. Additionally, it shows pending, approved, or denied requests, updates to employee schedules, time log adjustment requests, and more.
An automated service portal lets your employees login to the software remotely using their preferred devices. From here, they can make requests or file for leaves without having to go to your HR office to process them physically.
A feature such as this not only speeds up the process but also helps reduce backlog and delays compared to processing leaves and requests manually using the old pen and paper method.
Automation also helps your staff spot discrepancies in employee requests easily and make corrections as needed.
Easy-to-Implement HR and Payroll Software
When looking for a human resource management solution, consider its viability in terms of implementation.
Is the software only applicable to a specific operating system? Does it have minimum device spec requirements? Is it cloud-based and remotely accessible? Or does it need to be installed and loaded onto a local server?
A good human resources information system should be able to run on the majority of operating systems and devices available.
It is also a plus if the HR system you are shopping for has both desktop and mobile app versions.
A set of required device specifications should also be readily available for review prior to purchase or subscription. That way, you can check with your IT administrator if the software is compatible with your network.
Choosing a cloud-based HR solution is more advantageous, especially if you have employees or contractors located all over the country or the world.
Offers HR Tools for Employee Onboarding and Performance Management
Employee onboarding and performance management are necessities to ensure that employees are able to hit goals and metrics.
A well-rounded set of HR tools and management software should come with built-in tools and plug-ins that allow for employee monitoring, assessment, and feedback.
Functions such as those mentioned above should be readily available through the software dashboard for easy access and follow-ups.
Streamline and Speed Up HR Tasks
An effective human resources software solution should be able to automate and improve how your HR personnel handles rotational processes and transactions for effective employee management.
Whether it is as simple as generating pay slips for employees or approving time off requests, the application should be streamlined to execute these processes readily and efficiently.
In other words, the HR software should speed up tasks that otherwise take time to fulfill.
Helps Track Employee Life Cycle from the Hiring Process to Retirement
An applicant tracking system and employee performance management are two of the essential functions of a good HR application software.
With those two major functions, hiring employees becomes a speedy process. This helps your HR team easily reach out to potential candidates.
What's more, with the software's capability to store and update information remotely, your HR management team can keep track of employees from the day they get hired to the time they tender their resignation or retire.
These functions help smooth processes for hiring, resignation or termination, and retirement, which include final pay and severance package computation and processing, scheduling exit interviews, and managing documents needed for final clearances, among other things.
HR Software with a User-Friendly Interface
The dashboard interface is where your HR personnel will spend most of their time once logged in to the software.
One major factor to consider is how difficult it is to navigate through the software interface.
Remember, if you have recently switched from manual to automation, some of your HR employees might not be familiar with how the software works.
Training sessions can help your HR staff familiarize themselves with the software's interface. However, once they are left on their own, will they be able to navigate through the menus?
What's more, do the sections come with tooltips and short descriptions of their functions? Can someone with limited experience with electronic devices interact with the software independently and without difficulty?
If all answers are yes, then you are well on your way to finding the right HR system for your company.
Budget-Friendly HR Software for Small, Micro, and Medium-sized Businesses
This is perhaps the most important factor you need to consider when looking for the best HR software for your business.
The software solution that you need doesn't have to have the price tag of a luxury vehicle!
The market has a nearly limitless number of human resource management solutions that can cater to almost all types of business models, with matching price ranges based on services and HR features.
For small businesses and startups, consider getting software that offers to automate core HR processes and is within your budget. A little flexibility might be necessary; however, it doesn't have to break your bank account.
A Technological Leap
Switching from the traditional pen, paper, and hardcopy file storage system to an automated HR solutions system is a step in the right direction. In addition, this ensures that your business is on par with competitors and on an even playing field.
Revolutionize the Way You Manage Your Small Business
With eezi, you are assured that you are getting the best talent management and time tracking system, with advanced HR features for your small businesses and startups.
Experience well-calibrated, enterprise-level human resource and payroll software for your small businesses. Try eezi and see how it can improve your internal HR processes.