Here's what you need to know about the flexible work arrangement, as implemented by DOLE.
What is a Flexible Work Arrangement?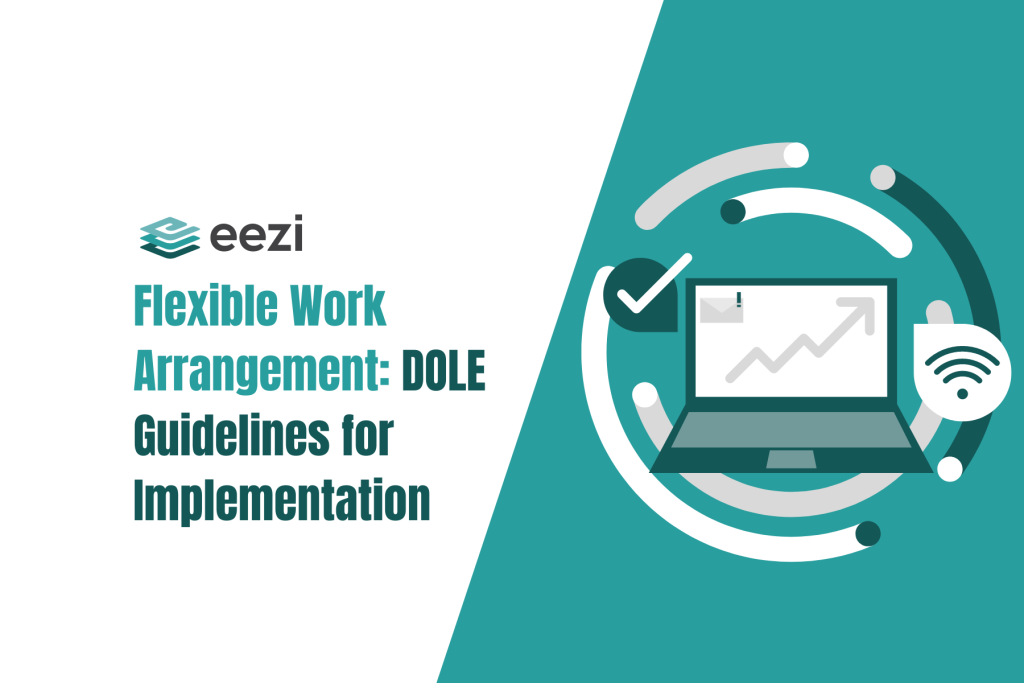 A flexible work arrangement, as the name suggests, is a work schedule arrangement that is not bound by the constraints of traditional work schedules. In recent years, flexible work became one of the solutions to major changes in business situations. This results from economic difficulties due to the worldwide pandemic. However, other emergencies like national, military, or natural disaster crises can also call for a more flexible work setup.
So why do businesses adopt flexible working arrangements? For one, it is a much better alternative than closing the business or firing employees. Additionally, it is a good move to increase the company's competitiveness and the employee's productivity. Often, providing a flexible schedule also leads to better satisfaction at work.
Department of Labor and Employment Guidelines on Implementation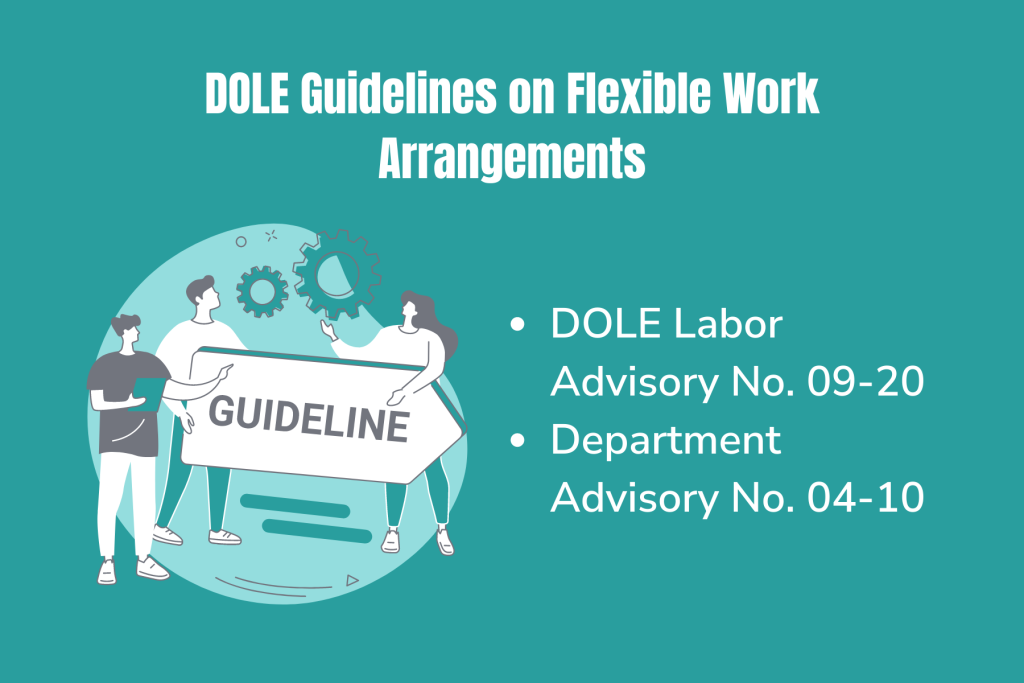 The Department of Labor and Employment (DOLE) released several guidelines for employers and employees. This is in line with adopting flexible work arrangements, namely the DOLE Labor Advisory (LA) No. 09-20 and Department Advisory (DA) No. 04-10. Let us go through them.
Labor Advisory No. 09-20 was released in 2020 to strengthen and improve the provisions existing in DA No. 04-10. The provisions of LA No. 09-20 were released as remedial measures due to the Corona Virus (COVID-19) pandemic.
The guidelines require the employer to notify the DOLE if they ever wish to implement flexible working arrangements. Furthermore, the provisions also ensure that the adoption of flexible work arrangements must not, in any way, result in a reduction of existing employee benefits.
Part IV of both DA No. 04-10 and LA No. 09-20 holds the provisions under Administration. Additionally, it clarifies that any difference in interpretation of the provisions must be taken as a grievance and subjected to the company's grievance policies. Lastly, should the policies be insufficient or nonexistent, the grievance shall be transferred to the Regional Office with jurisdiction over the workplace.
What are the types of flexible work arrangements?
There are several ways that flexible work arrangements can be implemented in the workplace. DOLE has released several guidelines on the adoption and implementation of flexible work arrangements.
Compressed Work Week
The compressed work week is a work arrangement where an employee's workweek is compressed to that of less than six (6) days per week, but the total working hours shall remain 48 hours. This means that each work day of the employee exceeds eight (8) hours, but it shall not exceed 12 hours per day. This excess of work hours more than the regular eight (8) hours does not merit overtime pay.
Rotation of Workers
Another type of flexible work arrangement is the rotation of workers. A group of workers is rotated such that they are alternatively provided work per week.
Let's say in Group A we have 10 workers, called employees E1 to E10. Each day of the week can only accommodate four workers. On Monday, employees E1 to E4 have work; Tuesday, employees E5 to E8 are on duty; Wednesday, employees E9, E10, E1, and E2 have work. On Thursday, employees E3 to E6 will be working, while employees E7 to E10 will work on Friday. With this, all employees are given equal days of work duty, which is two days per week.
Reduction of Workdays
This example of flexible work arrangements reduces the number of delegated work days per week of an employee. If an employee previously worked five days a week, from Monday to Friday, in this arrangement, he/she might only get to work for three days during the week. However, the reduction of workdays is temporary in nature. It must only be effective for not more than six (6) months.
Broken-Time Schedule
The broken-time schedule is another example of flexible work arrangements that refers to noncontinuous hours of work. It allows the employee to finish their daily or weekly work hours over the course of the whole day or week while working non-continuously.
Flexi-Holidays Schedule
Flexi-holidays schedule pertains to a type of flexible work arrangements where the workers agree to take their holiday leaves on a different date, provided that there will be no diminution on their benefits due to the arrangement.
Forced Leave
Forced leave refers to an arrangement where employees are forced to take leaves for several days or weeks. In this process, they may use their leave credits if they have any.
Telecommuting
Another type of flexible work arrangements is telecommuting. Telecommuting refers to the arrangement at work where employees are allowed to perform their work at home (or at locations other than the office) through the use of the internet and various technologies.
Flexitime Schedule
Last on this list of work arrangements is flexitime schedule. It pertains to a working system or arrangement where an employee comes in for work and leaves at their desired time, but the necessary work time must be completed within the office. Flexitime schedule is also referred to as "gliding".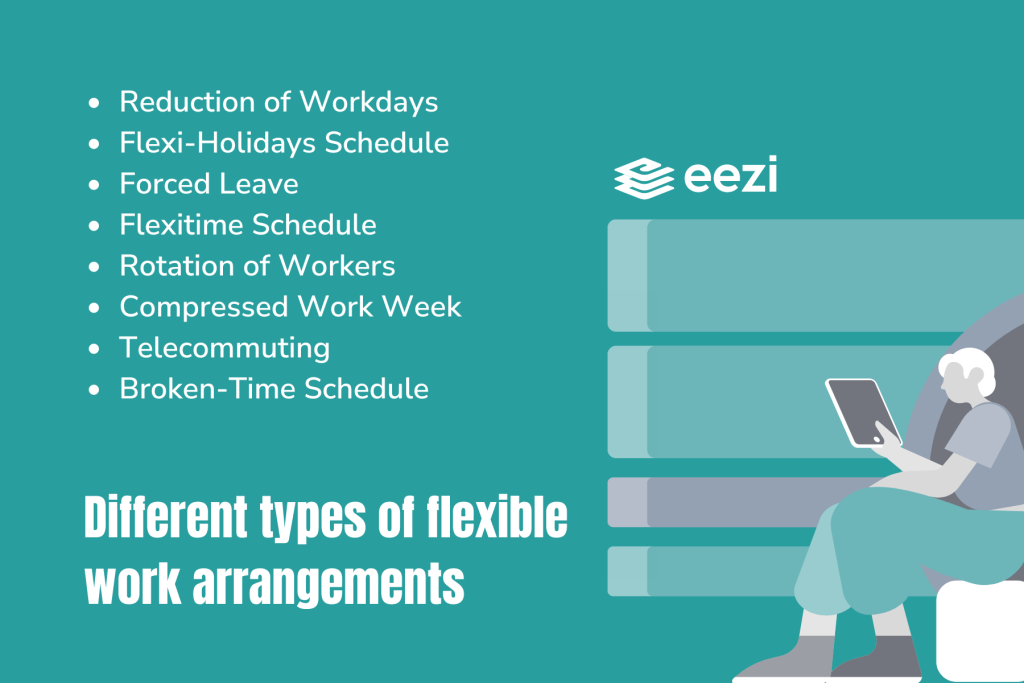 The Pros and Cons of Flexible Work Arrangements
It is an inevitability to have a positive and negative side to each and every phenomenon, idea, and anything else. This very same concept applies to flexible work arrangements. Let's take a closer look at the advantages and disadvantages of flexible working.
The Pros
For Employees:
Reduced or no work commute or fuel expenses
Empowered employees
More control over own schedule
Lowered childcare expenses
Better accommodation of family needs
Ability to choose to work when most productive
For Employers:
Reduced compensation cost
Reduced operational cost
Reduced employee absenteeism and tardiness
Lowered turnover rate
Boosted employee morale
Industry Competitiveness
Better employee commitment
The Cons
For Employees:
Lower salaries
Boundary lines between work and home fades
False sense of availability for family and friends
Possible distractions in a home setting
Possibility of missing important announcements due to unstable connections
Transition from an office setting to working from home may take some getting used to
Feelings of isolation from the team
For Employers:
Employee procrastination
Employees' feelings of unfairness due to possible unequal distribution of work
Increased stress from the adoption of flexible work
Supervisors and managers may have a hard time communicating, supervising, and managing the employees under them
Compressed work weeks may jeopardize possible client relations
Manage employees better no matter the work arrangement
Manage your employees in any working arrangement with eezi. Do more with our highly configurable payroll for flexible work arrangements.