What are the common employee onboarding challenges and how to address them?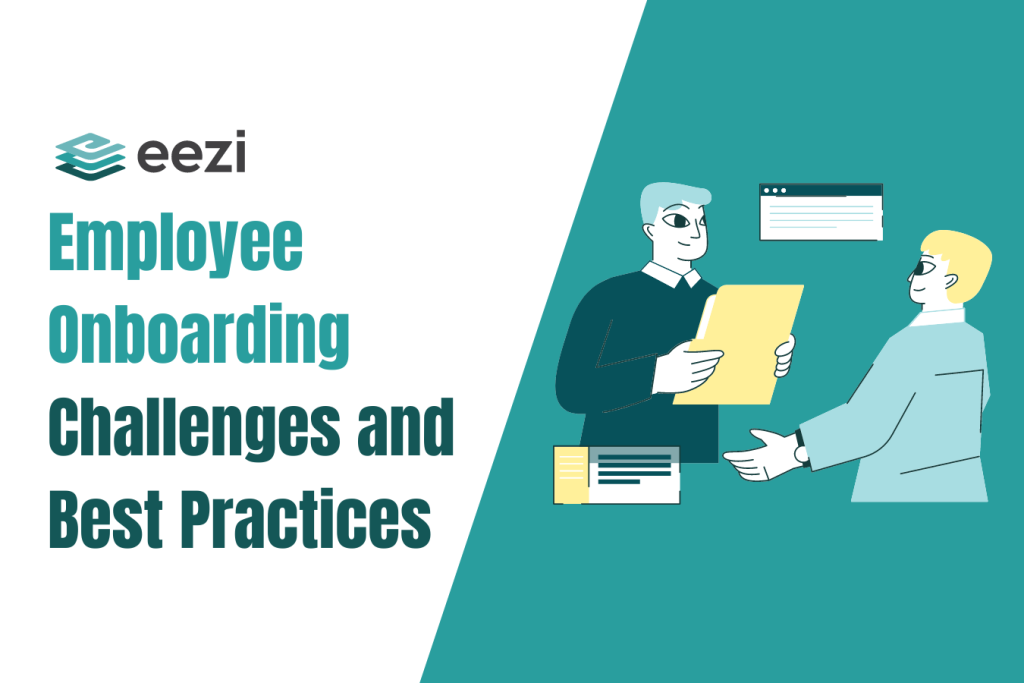 A new hire's positive employee onboarding experience is key to ensuring employee retention.
Moreover, an effective employee onboarding process does not happen out of luck or chance. It has to be conceptualized by design, planned, and implemented strategically to ensure a positive employee experience and satisfaction.
Feelings of apprehension and a lack of guidance can prompt new team members to feel restless and inadequate. As a result, this can ultimately affect work performance. This can lead to productivity issues and, ultimately, early resignation.
A savvy employer knows that employee satisfaction contributes greatly to company success. This means that the responsibility of ensuring that new hires feel welcome and competent on their first day at a new job falls on you. This applies whether you're an employer, hiring manager, or human resource department head.
Ultimately, the main goal is to provide you with knowledge on how to create an effective and efficient employee onboarding process. Consequently, this ensures that newly hired employees will have a positive onboarding experience when joining your company or organization.
What is Employee Onboarding for New Hires?
Onboarding is vital for newly hired employees to transition and integrate into their roles and responsibilities without too much fuss.
This is where new hires get acquainted with the company or organization they joined. Generally, this includes the people, workflows and processes, company culture, policies, goals, and job expectations.
It is during the onboarding process that new hires are:
shown their work area
given access to the equipment and resources they will need to perform their assigned tasks
meet and get acquainted with co-workers, supervisors, and managers
familiarize themselves with processes and guidelines
have a better understanding of the company's goals, mission, vision, ideals, and values
It is expected that a new employee should be able to work independently and effectively by the end of the employee onboarding process.
Common Employee Onboarding Challenges in the Workplace
A successful onboarding process fosters positive ongoing development and growth for your employees.
Before you can achieve an effective onboarding system, you are bound to encounter employee onboarding challenges along the way.
Here are some of the common challenges that hiring managers need to be aware of:
Insane Amount of Paperwork
Forms, contracts, employee benefits, resource materials—these are some of the pieces of paperwork that need to be prepared, filled out, and completed during the onboarding process. Coupled with scheduled meet-and-greet sessions, orientations, trainings, and familiarization, your newly hired employees can get overwhelmed pretty fast.
Reduce the hassle for both you and your new employees by using an automated onboarding software to streamline the entire process.
Unclear Job Description or Role
A newly hired employee will not be familiar with his role in the company right off the bat. It is the job of the onboarding personnel or manager to ensure that there is a clear delineation of what the new employee is expected to do and what his role is with the company.
The setting of proper expectations, a clear description of the job, and guidance will ensure that the newly hired employees will not feel lost or overwhelmed when starting a new job.
Information Overload or Lack Thereof
Just like the above-mentioned lack of clarity in the job description, too much or too little information about what is expected of a newly hired employee and what he must do is also considerably detrimental to his growth in the company. This can lead to a poor onboarding experience and prompt him to find a job elsewhere.
Best Practices in the New Employee Onboarding Process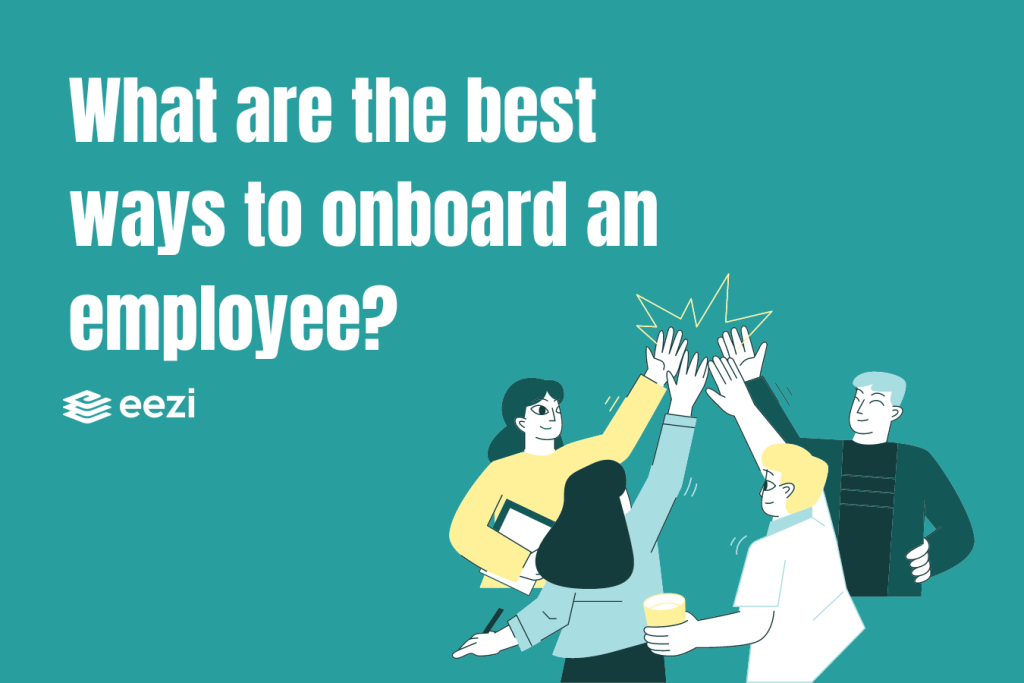 So, you have hired new employees. Based on their resumes, the job candidates are highly qualified for the requirements of the role and are about to start working at your company. Now, what?
Here are the steps on how to implement an effective and efficient onboarding program for newly hired employees to nurture employee development:
1. Make Preparations for the Arrival of the New Employee.
Pre onboarding process is a great way to prepare for the arrival of a new addition to your team. You can start by sending the new hire a welcome email or message.
This can contain information about the job or role that the new hire will fill, a short overview of ongoing tasks or projects that the new employee will be involved in, and a general description of how his first day on the job will go.
Circulate another email to the whole department or section containing information about the new hire, what his role will be, and where he will be assigned or designated. Current employees who are made aware of a new co-worker can set their expectations and prepare to make the new team member feel welcome.
Ensure that copies of the employee handbook, documents, and new hire paperwork that new employees need to fill out or complete are ready upon their arrival. This is to prevent delays in new hire orientation and employee training schedules.
2. Prepare the New Hire's Work Area.
First impressions are important to make your new hires feel at ease on their first day on the job. Ensure that desks, workstations, and the general environment in which your department conducts work are prepped and adequately equipped. Malfunctioning tools and equipment can cause delays and a feeling of uncertainty for your new hires.
Set up login credentials, email accounts, phone number extensions, office supplies, and other necessities ahead of time. Remember that a smooth flow of day 1 activities can boost a new employee's morale and make him give his best performance.
3. Provide Your New Hire with Access to Programs, Tools, and Files in Advance.
A new hire needs to be able to open and use files, programs, and tools used by the entire team. Set up access ahead of time and provide your new employee with the applicable login credentials based on his role.
Provide adequate access, guidelines, instructions, and a list of initial tasks that need to be done immediately. This way, you are showing your new hire that your company is professional and organized. Moreover, they don't need to wait for verbal instructions every time they proceed with the next step of the task.
A sense of preparedness gives the impression that you and your company are on top of the game. This, in turn, fosters confidence and positive workplace relationships between employers and employees.
4. Set-up Introductions.
A newly hired employee will not know everyone in the workplace. If you are handling the onboarding process, it is your role to ensure that the new hires are introduced to key people in the workplace.
Schedule time for the new hire to meet the people he will work with on his first day on the job. Introduce new employees to their co-workers, supervisors, managers, and other key figures that are involved in their department or workspace.
Although it may seem overwhelming, the new hires will be able to recognize who to approach if they need help, guidance. The same is true when they have questions about their tasks and assignments.
Introducing a new hire to his immediate colleagues will also help him become more familiar with the company, his role in it, and what is expected of him.
5. Arrange a Getting to Know You Event
This can be a team lunch, after-work socializing or a weekend team building event (ideal for a fair to large number of new hires). Sometimes a simple meeting at the office cafeteria will also do. In addition, allow your new hires meet and mingle with their immediate co-workers. This will help break the ice and make them feel more comfortable.
An employee who feels relaxed and at ease around their colleagues will foster loyalty, teamwork, and camaraderie among peers.
For larger gatherings, such as weekend team outings, check with your new hires to see if their schedules will allow it. Inform them in advance of any potential expenses that they might incur because of the event.
If your company can handle the expenses, well and good. Moreover, a new hire paying for their share of the expenses can make them feel hesitant to participate. After all, requiring a new employee to pay up before actually earning their first paycheck from your company feels wrong.
It is also very helpful to learn a little more about your new employees. This way, you avoid any awkward first impressions, cultural and religious taboos, and the like. If new employees are made to feel valued, they will most likely stay with your company in the long run.
6. Provide Adequate New Hire Training and Guidance.
Do not expect your newly hired employees to know everything on Day 1.
Instead, focus the first week on job training, familiarization, and getting acquainted with your company's processes and workflows. It doesn't matter that your new employees have performed the same tasks in prior jobs. Training and onboarding managers should still guide them and help them settle into the new job requirements.
Additionally, a new hire's training program is vital to employee engagement and transition. Moreover, providing appropriate details about company rules, processes, goals, and expectations helps your new employees better understand their role in the company.
Lastly, prepare training materials, instructional videos, written guides, demos, and shadow mentoring, and provide them with an onboarding buddy. This ensures a smooth transition phase for newly hired employees.
7. Follow Up on Your Newly Hired Employees.
Getting in touch with your new hires is a great way to make them feel that they are not forgotten.
Even if the initial onboarding is finished, make it a point to touch base with newly hired employees. Check in after 30, 60, and 90 days to gather onboarding feedback on how new employees are adjusting to the job and the work environment. This is also an opportunity to evaluate if your company's onboarding processes are as effective as originally intended.
Follow-up and ask questions about their performance. Check if they are at ease with their current roles, and if they need further assistance with work-related aspects.
A positive or negative employee experience while onboarding employees can pave the way for your company's overall success with employee engagement and management.
Related:
Streamline onboarding when you automate with eezi
Manage employee files and benefits easier and faster with eezi's HRIS and payroll module.