What is the Telecommuting Act in the Philippines? Learn more about the law and its impact on your workplace.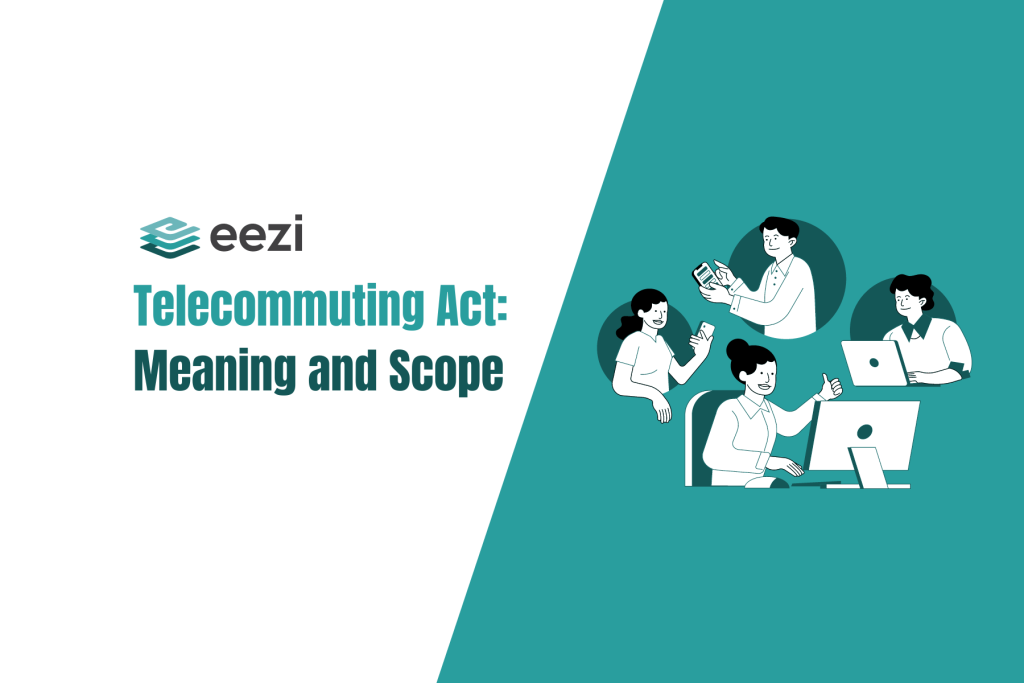 What is Telecommuting?
Telecommuting, also known as teleworking, is a work arrangement that enables employees to work from a location outside of the traditional office, often from their homes. It relies on telecommunication and digital technology to allow employees to perform their job duties effectively and efficiently from a remote location.
This approach has gained significant prominence, particularly with advancements in digital communication tools that offer greater flexibility in work arrangements. Overall, they result in a potential reduction in commuting time and costs.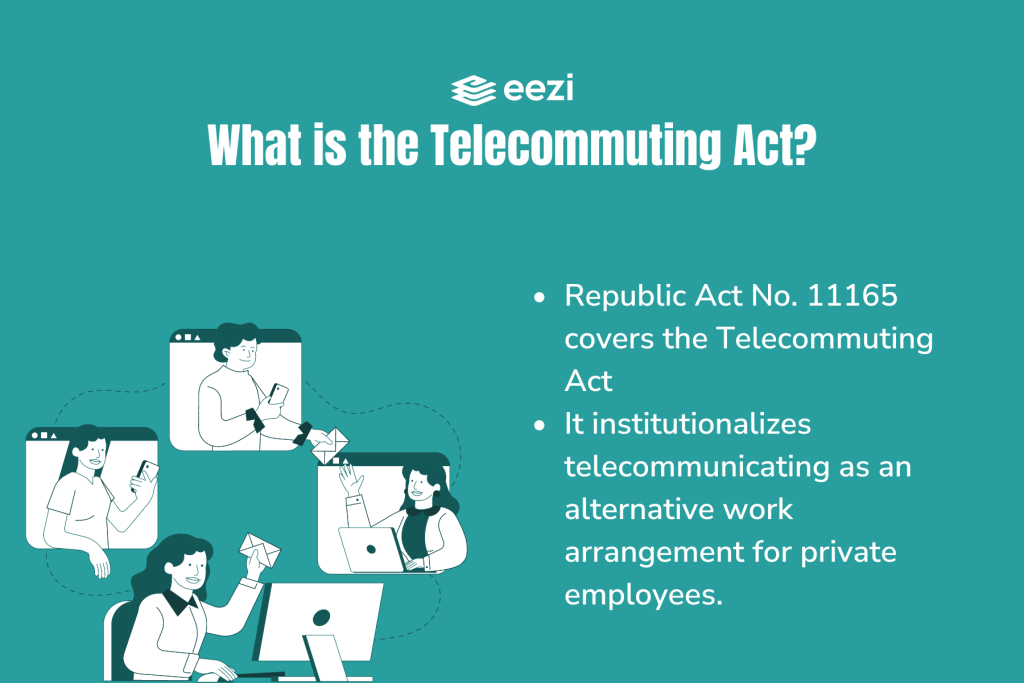 What is the Telecommuting Act in the Philippines?
The Telecommuting Act, officially known as Republic Act No. 11165 or the "Work From Home" Law, was introduced to legally establish telecommuting as an approved work arrangement for private employees in the Philippines.
This act, authored by Senator Joel Villanueva, defines telecommuting as "work from an alternative workplace using telecommunications and/or computer technologies." It provides employees with the flexibility to perform their job duties outside the traditional office, promoting a better work-life balance.
The act includes provisions to regulate telecommuting arrangements and facilitate their implementation across various industries, making it a significant piece of legislation aimed at modernizing the country's labor practices.
How does the Telecommuting Act impact the workplace?
The Telecommuting Act prioritizes equitable treatment for employees opting to work from home, with the telecommuting agreement being a voluntary arrangement between the employer and employee. Employers are not mandated to implement telecommuting if it does not suit their business needs.
Guaranteed rights for telecommuting employees
To ensure fairness, the "Work From Home" Law guarantees the following rights for telecommuting employees:
Receive a compensation and benefits package not lower than what is provided by applicable laws, including overtime pay and night shift differentials.
Be entitled to rest days, breaks, and regular and special non-working holidays.
Have an equivalent workload and performance standards as their office-based counterparts.
Access the same training and career development opportunities and undergo similar assessment processes as on-site employees.
Receive proper training on the use of devices, equipment, and computer technologies relevant to telecommuting.
Enjoy the same rights as on-site employees, including communication with workers' representatives.
Data protection is another critical aspect of the Telecommuting Act. As employees use the internet for remote work, the setup needs stronger measures to safeguard sensitive data and restrict access to authorized personnel only.
Furthermore, the act encompasses provisions for the Telecommuting Program, Administration of the Telecommuting Program and Agreement, and the establishment of Implementing Rules and Regulations (IRR) to ensure effective implementation and compliance. Essentially, the Telecommuting Act aims to foster a productive and secure telecommuting environment for both employers and employees.
Telecommuting Program and its Implementing Rules
Section 4 of Republic Act No. 11165 establishes the Telecommuting Program. This allows employees to work remotely outside of the traditional office premises. Moreover, the Department of Labor and Employment issued a set of Implementing Rules and Regulations to elaborate on each item of the program.
Under the law, the Telecommuting Program is voluntary. Moreover, its implementation is subject to mutual agreement between the employer and the employee.
In addition to the guaranteed rights, the laws and rules also emphasize ensuring transparency and understanding. Moreover, the employer must communicate all the terms and conditions of the telecommuting program. In addition, the employer must also outline the responsibilities of the telecommuting employee through written information.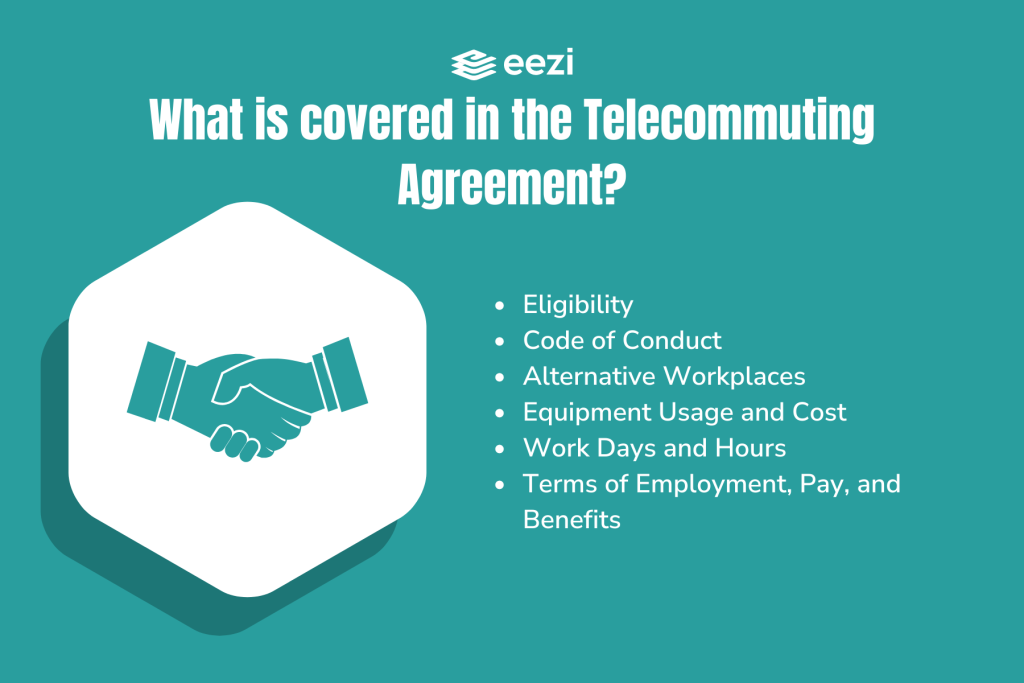 What are the DOLE Guidelines on Working From Home/Telecommuting
When formulating a telecommuting agreement, certain key guidelines must be taken into account:
Eligibility: Clearly outline the criteria that determine an employee's eligibility for the telecommuting arrangement.
Code of Conduct and Performance Evaluation: Define expected behavior and establish a fair evaluation process for telecommuting employees.
Suitable Alternative Workplace(s): Specify the acceptable locations from which employees can work remotely.
Usage and Price of Necessary Equipment: Address the use and cost of essential equipment required for telecommuting.
Work Days and Hours: Establish a schedule for telecommuting days and working hours.
Terms of Employment, Pay, and Benefits: Ensure that the telecommuting agreement covers compensation, benefits, and any provisions specific to remote work.
Non-Reduction of Benefits: Guarantee that benefits for telecommuting employees are not reduced compared to their office-based counterparts.
By adhering to these comprehensive guidelines, employers can create effective telecommuting agreements that promote productivity, work-life balance, and employee satisfaction.
Benefits of Telecommuting
Telecommuting has revolutionized both the workplace and work in general, prompting changes in employment agreements. It has brought significant advantages to both employers and employees. Here are some of them.
Minimized Operating Costs
Reduced Employee Expenses
Lower Stress Levels
More Flexibility
Better Work-Life Balance
Better Employee Experience
Lower Turnover Rates
Telecommuting the eezi way
Make telecommuting as easy and as comfortable as possible with eezi's HR and Payroll suite. Learn more about how it can help make telecommuting secure and more convenient by booking a demo or signing up for a free trial.