What is the ease of doing business act in the Philippines?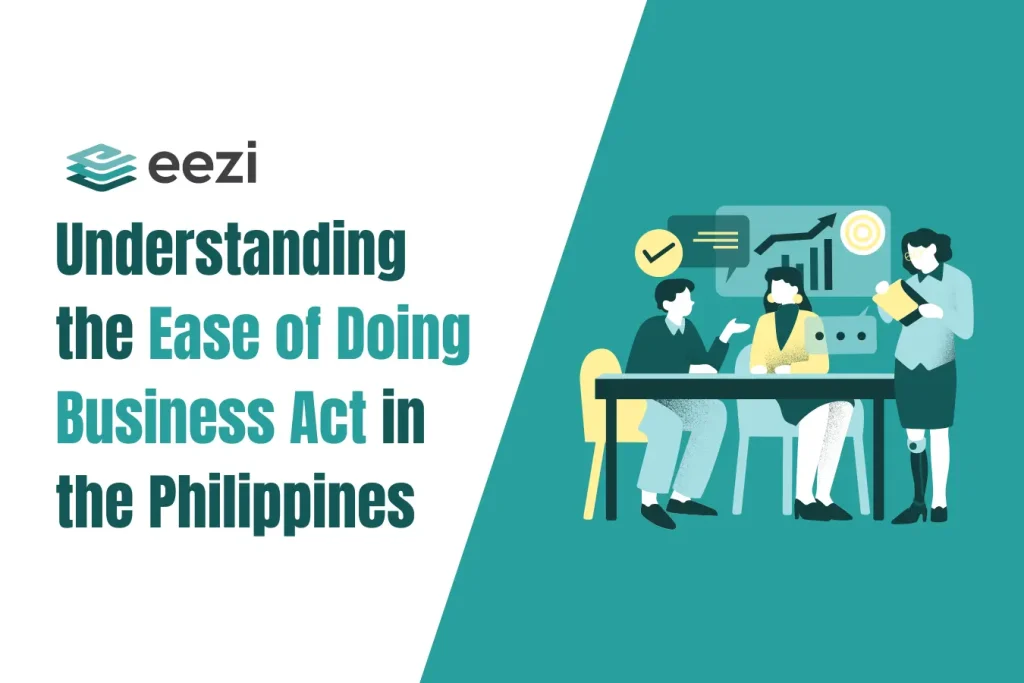 Applying for a business license can be very tedious, time-consuming, and redundant. It can also take several tries before your request gets approved.
However, this changes with the implementation of the Ease of Doing Business Law in the Philippines. With this new act, applications for business registration have become easier and more efficient.
What is the Ease of Doing Business Act?
The Ease of Doing Business Law mandated the speeding up of business and non-business transactions. This includes transactions such as the issuance of business permits and licenses.
The law took effect under the Republic Act 11032, enacted on May 28, 2018. Its primary aim is to entice business owners, entrepreneurs, and foreign investors to open and operate in the country.
Moreover, it is an amendment to the Anti-Red-Tape Act of 2007. This added provisions that hold government agencies and their officials accountable for potential graft and corruption related to efficient business registration processes.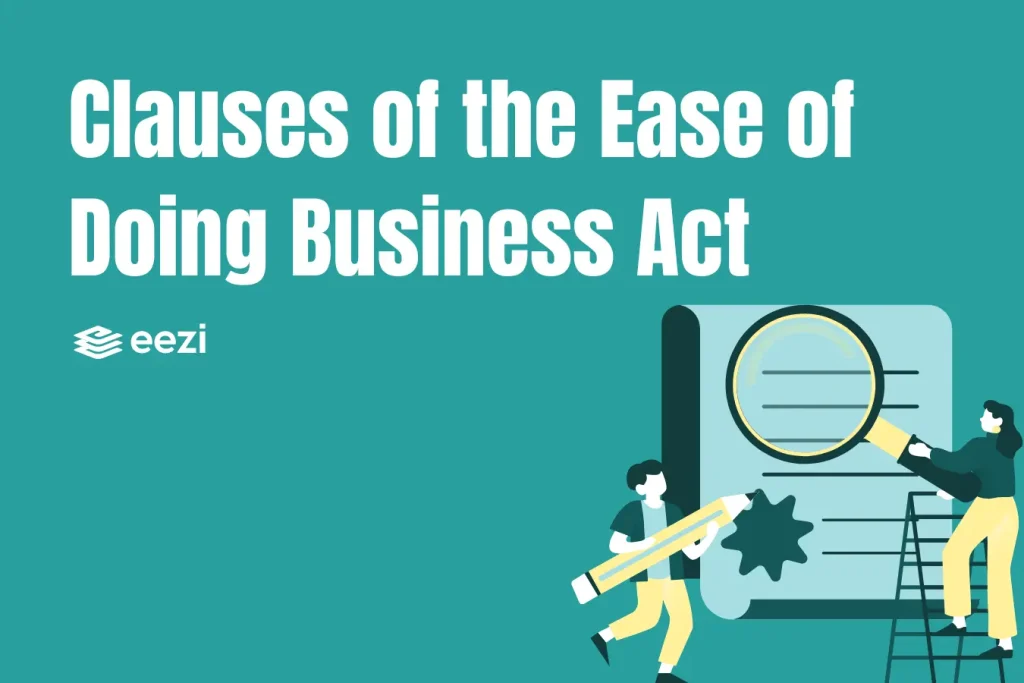 Important Clauses of the Ease of Doing Business Act
Faster Government Transactions when Securing Business Permits
The local government departments and their officials must process the applications and requests for local business licenses. This includes those in the local government units, within the following conditions:
For simple transactions: Processing should be within three (3) working days.
For complex transactions: Processing time should be within seven (7) working days.
For applications and requests for business permits involving activities and scope that can pose danger to public health, safety, morals, and policies, and for highly technical transactions, processing should be done within twenty (20) working days.
But what if the local government arm fails to process the business permit within the stipulated time frame? Under the new law, this grants the application an automatic approval.
Efficient and Simplified Process for Issuing Local Business Licenses, Clearances, Permits, Certifications, Authorizations, and Other Permits Related to Business Registrations
Feedback from business owners indicated that the licensing system can be very tedious, time-consuming, and inefficient. The Ease of Doing Business Law aims to help solve these drawbacks.
Ideally, the Republic Act 11032 makes the issuance of permits and licenses more straightforward. This includes business permits, environmental and agricultural clearances, and other licenses.
With the Ease of Doing Business Law, the following are implemented:
The law requires the use of a unified business application form when processing new applications for business permits and business renewals.
Moreover, the updated permit application process combines applicant information from other agencies. This helps the local government departments in handling tax, clearance, and permit requests.
Some of the permits and clearance that require shared information are as follows:
Local taxes and clearances
Building clearance
Sanitary permit
Zoning clearance
Other specific requirements of other government agencies and LGUs, including fire clearance issued by the Bureau of Fire Protection (BFP).
Electronic Business One-Stop Shop (eBOSS) Implementation
The eBOSS is a single-stop facilitation service set up to streamline a city's or municipality's business permitting and licensing system. Moreover, the eBOSS receives and processes manual and electronic submissions of applications for permits, licenses, and other authorizations.
The government has mandated cities and municipalities to automate their business permitting and licensing systems. Alternatively, they can implement eBOSS within three (3) years from the effectivity of the Ease of Doing Business law.
Furthermore, the law states that local clearances shall be issued with the business permits to reduce requirements. Such documents include sanitary permits and environmental and agricultural clearances.
On the other hand, applicants must obtain barangay clearances and business-related permits at the office where the business is located. Lastly, clearances and licenses must follow Ease of Doing Business Law timelines, with revenues sent to barangays.
Zero Contact Policy
The Ease of Doing Business Law requires Zero Contact Policy during all government transactions between officers and applicants. Additionally, there can only be a virtual or face-to-face meeting during the preliminary assessment or when strictly necessary. This policy aims to reduce potential graft, corruption, extortion, and bribery in government-related transactions.
The Citizen's Charter
The Citizen's Charter is a means for government agencies to convey their service standards when delivering their services to their clients, or citizens.
This means of information dissemination can be in the form of billboards posted at the office main entrance, conspicuous and public locations, their respective websites, or printed or published materials, either in English, Filipino, or their local dialects.
Details of the service standards should include:
An extensive, unified checklist of requirements for all types of applications and requests handled by said office or department
A detailed procedure on how to procure a service or document
The time frame or number of days it takes to process the requested service
Pertinent documents or additional requirements that the applicant or requesting party needs to provide during the application
Corresponding fees, if applicable or necessary
The procedure for filing complaints
Streamlined Online Business Registration
Republic Act 11032 requires online business registration via the Central Business Portal established by the Department of Information and Communications Technology (DICT). This portal handles various business-related transactions, ensuring data collection for permits, licenses, clearances, and certifications. Additionally, the Act mandates the creation of the Philippine Business Databank for easy access to business entity information by government agencies and LGUs.
Anti-Red Tape Authority
RA 11032 also mandates the creation of the Anti-Red Tape Authority (ARTA) to oversee, implement, and neutralize red tape. Moreover, ARTA is also designed to implement reforms and initiatives to combat excessive bureaucracy and to ensure that the various government units and agencies involved will adhere to them.
Accountability and Liability of Government Officials and Employees
Government agencies, their officials, and employees must follow the Ease of Doing Business law. Moreover, government officials and employees who fail to adhere to the statutes of the law will be punished accordingly and will incur corresponding penalties.
Ensure that your business is always on par!
eezi understands your need to keep track of employee work hours to sustain productivity and ensure continuous operation and progress! Use eezi to make running your business easy!